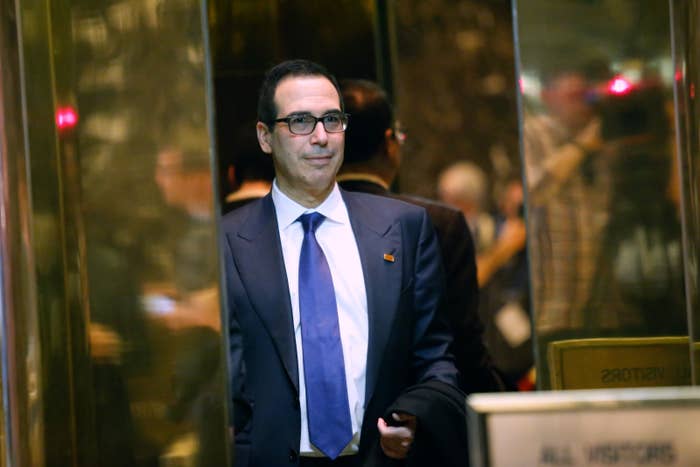 Donald Trump announced his intent to nominate his campaign's finance chairman, Steven Mnuchin, as Treasury secretary, and billionaire investor Wilbur Ross as commerce secretary on Wednesday. He also named Todd Ricketts, the billionaire owner of the Chicago Cubs, as Deputy Secretary of Commerce.

Before heading Trump's fundraising operation, Mnuchin was best known for his role in buying up the assets of IndyMac, a failed California mortgage lender, and turning it into OneWest in 2008. Along with investment partners including Trump-supporting hedge fund billionaire John Paulson and liberal billionaire George Soros, he made huge profits when OneWest was sold to CIT Group in 2015. Mnuchin is now on the board of CIT and has served as chairman of OneWest.

"Steve Mnuchin is a world-class financier, banker and businessman, and has played a key role in developing our plan to build a dynamic, booming economy that will create millions of jobs," Trump said in a statement. "His expertise and pro-growth ideas make him the ideal candidate to serve as Secretary of the Treasury."
Mnuchin is a Goldman Sachs veteran, working for the investment bank from the mid-1980s through 2002. He founded his own firm, Dune Capital Management, in 2004; Bloomberg reported it was named after "a spot near his house in the Hamptons." He has also had a successful stint in Hollywood, producing movies including Suicide Squad, Entourage, and Mad Max: Fury Road.
Like other Wall Street figures who supported Trump, Mnuchin is hardly a lifelong Republican or hardline conservative activist. Prior to this election cycle, his political giving was split between Democrats and Republicans, with donations to Hillary Clinton, Barack Obama, Mitt Romney, John Edwards, John Kerry, Rudy Giuliani, and other lawmakers from both parties.

"I look forward to helping President-elect Trump implement a bold economic agenda that creates good-paying jobs and defends the American worker," Mnuchin said in a statement.
Trump has promised to overhaul financial regulations that he says are making it harder for banks and other companies to lend. As treasury secretary, Mnuchin would have little direct involvement in drawing up or enforcing rules — which are instead mostly done by agencies run by bipartisan commissions or single presidential appointees.
But treasury secretaries are, however, key administration figures on a wide range of economic and financial issues, and chair the Financial Stability Oversight Committee, a group of regulators that's charged with identifying threats to the financial system. The committee has the power to designate companies as potential threats to overall financial stability, putting them under stricter government oversight.
A Trump FSOC, said Peter Wallison, a conservative expert on financial regulation, would likely be relatively inactive. "It is highly unlikely that his appointees will be interested in exercising the extensive powers that Dodd-Frank gives to the FSOC," he wrote. So far, the officials overseeing the transition for regulatory agencies and commissions support a lighter regulatory touch for banks and other financial companies.
Mnuchin has had a relatively low public profile — another Trump adviser and fundraiser, the fund manager Anthony Scaramucci, has been more visible discussing economy policy with the media. Mnuchin says he supports "low taxes, fewer regulations, and trade deals that are fair to the US," Bloomberg reported, and insists his previous donations to Democrats were "mostly favors for friends who were fundraisers."
One area where any Trump treasury secretary is likely to spend a lot of time is China. Trump repeatedly accused China of currency manipulation during the campaign, and said he would officially designate the country as such when elected president — a process overseen by the Treasury Department.
Mnuchin will also operate as the president's top financial and economic diplomat. The Treasury Department takes part in the US–China Strategic and Economic Dialogue, an annual set of talks between senior officials from both countries.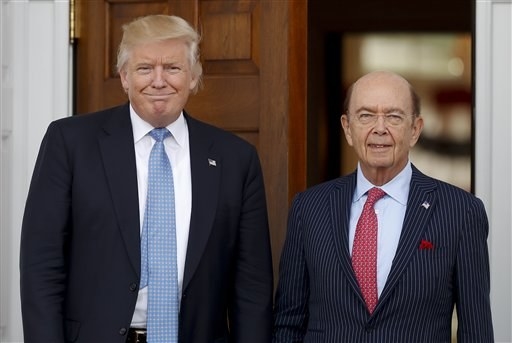 Ross is a former Democrat but a donor and longtime associate of Trump. Like Trump, Ross is a vocal critic of free trade agreements. For 25 years, he headed Rothschild Inc. where he bought struggling companies in the steel and coal industries and restructured them. He started his investment firm WL Ross & Co. in 2000 and served as Trump's top economic adviser on trade policy.
"Wilbur Ross is a champion of American manufacturing and knows how to help companies succeed," Trump said in a statement. "Most importantly, he is one of the greatest negotiators I have ever met, and that comes from me, the author of The Art of the Deal. Together, we will take on the special interests and stand up for American jobs."
Ross said he was "delighted" to join Trump's cabinet and looked forward to working closely with Mnuchin to implement Trump's economic programs.

Todd Ricketts, Trump's pick as Deputy Secretary of Commerce, is a member of the billionaire Ricketts family. His father Joe Ricketts founded the stock brokerage TD Ameritrade, and the family owns the Chicago Cubs, with Todd serving as one of the co-owners and his brother Tom as chairman.
The Ricketts family are formidable political donors — they were major contributors to a Super PAC supporting Wisconsin governor Scott Walker's presidential bid, while Todd Ricketts headed up the Walker campaign's finance operation. They then donated to an anti-Trump PAC, before eventually deciding to support Trump's campaign.
In February, Trump tweeted "I hear the Rickets [sic] family, who own the Chicago Cubs, are secretly spending $'s against me. They better be careful, they have a lot to hide!"