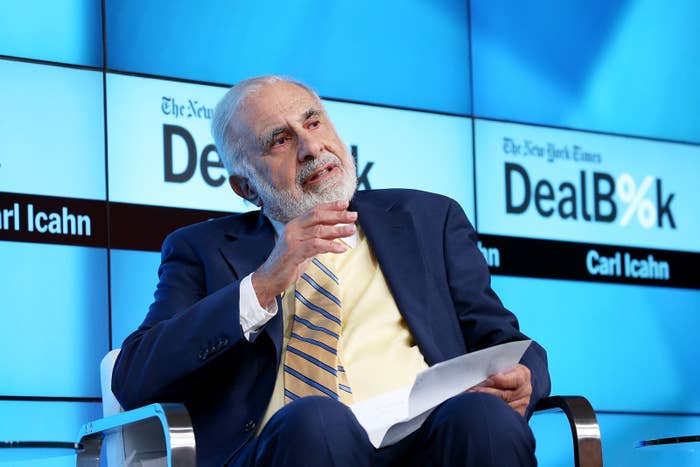 Donald Trump has appointed billionaire investor Carl Icahn as a special advisor, focused on reforming government regulation of business.
Icahn is uniquely knowledgable about financial regulation: for decades, the activist investor has battled to take over, restructure and dismantle companies. He has a particular interest in what happens at the Securities and Exchange Commission, the market regulator that oversees the campaigns of big investors like Icahn to change corporate behavior. He's been a frequent critic of Environmental Protection Agency rules that affect an oil refinery company that he owns a majority stake in.
Icahn and Trump have been associates since the 1980s. Icahn was a major owner of debt issued by Trump's casino in Atlantic City, the Taj Mahal, he, along with Trump's eventual Commerce Secretary pick Wilbur Ross, oversaw its bankruptcy that lead to Icahn becoming a major shareholder in the casino. Icahn took control of the casino in 2016 after it re-emerged from bankruptcy, although it closed for good in October.
Throughout the presidential campaign, Trump bragged of his association with Icahn, singing his praises dropping his name as a potential Secretary of the Treasury, a job he publicly turned down.
"He is not only a brilliant negotiator, but also someone who is innately able to predict the future especially having to do with finances and economies. His help on the strangling regulations that our country is faced with will be invaluable," Trump said in a statement.

Icahn will not technically be a government employee in his new role as special advisor, meaning he won't have to sell off any of his business interests — many of which are directly affected the federal government regulations he is set to help overhaul.
"What Trump is trying to achieve is to show business in a lot of this country they aren't going to be ruined by absurd regulation by bureaucrats," Icahn told the Wall Street Journal.

He said Trump had asked him about his eventual pick to lead the Environmental Protection Agency, Oklahoma Attorney General Scott Pruitt. Icahn has been a harsh public critic of the EPA, saying its rules disadvantage independent oil refinery companies like CVR Energy, the company he owns over 80% of.
EPA rules require refineries to buy credits for producing and blending renewable fuel, which can add up to a big cost for refineries like CVR that don't blend the fuels themselves. "We're talking about getting rid of this goddamn RIN law and this obligation," he told Bloomberg News.
CVR Energy's stock rose over 7% in after-market trading following Trump's announcement. The company's stock has risen over 67% since the election, increasing the value of Icahn's approximately 71 million shares by over $600 million.

One major regulatory post that Trump has not announced is the new chair of the Securities and Exchange Commission. People seeking the job are reaching out to Icahn, the Wall Street Journal reported, saying he is helping interview candidates on Trump's behalf.
Icahn earned his billions as a feared and respected "corporate raider" known for audacious attempts to take over and break apart public companies. His reputation for ruthless deal battles meant some companies would go to extraordinary lengths to avoid having to fight him.
One of his most controversial investments was his 1988 takeover of the airline TWA.
Many former TWA staff blame Icahn for the company's eventual demise in 2001 after several bankruptices. He started buying up TWA stock1985, building up to a full takeover. He saddled the company with over $500 million in debt and eventually took it into bankruptcy in 1992, before resigning as chairman in 1993.
In the financial wrangling that surrounded his investments, Icahn ended up with a deal giving him the right to buy hundreds of millions of dollars worth of discounted TWA tickets and resell them through a travel agent. St. Louis Magazine estimates that this arrangement — Icahn sold the tickets over the then-new internet — cost TWA $100 million a year.

Besides owning and controlling companies, the main way Icahn makes money today is through buying up large stakes in companies and then publicly advocating for changes he he says will boost the stock price.
He loudly advocated for management changes at eBay before it agreed to spin-off its profitable and growing PayPal division. He was a loud shareholder of Apple's and frequently asked for more and bigger stock buybacks. Like his friend Trump, Icahn effectively uses the media to amplify his demands and priorities — he writes blog posts about what companies should do to change, is a frequent guest on financial television channels, and even occasionally tweets.