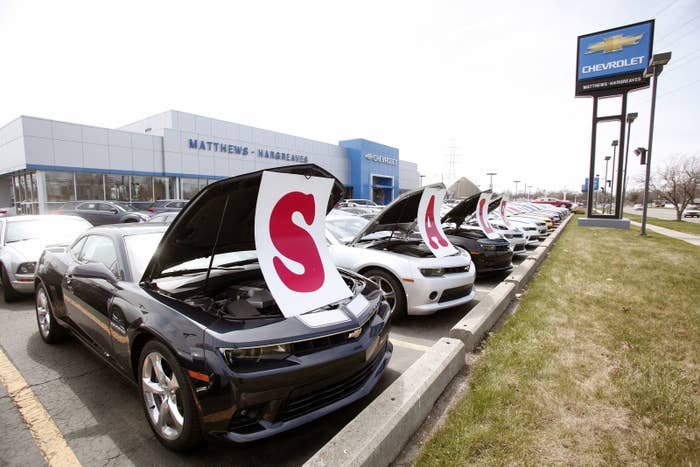 A pattern is becoming clear in 2017: people's feelings about the Trump-era economy are far outpacing how the economy is really performing.
The economy is looking great, everyone says: in the stock market, investors are pushing major indices to all time highs, and in long-running surveys on consumer sentiment and economic optimism, there's a consensus that things are very good, and set to get better.
Sentiment among small business owners, as measured in a survey done by the National Federation of Independent Business, has surged since the election and has been at "historically high levels for five months." In another ongoing survey by the Business Roundtable, business leaders reported their largest jump in optimism since 2009, specifically for projections of sales, hiring, and near-term investment plans.
The Conference Board said its measure of CEO Confidence shot up in the first quarter of this year, and the University of Michigan's consumer sentiment survey stayed at its very high post election level in April. These are very good times, businesses and consumers say.
"Sentiment has improved a bit, in particular for large multinational businesses, that's reflected in higher stock prices, and that colors perception of the economy," Mark Zandi, the chief economist for Moody's Analytics, told BuzzFeed News.

But little of this appears to be showing up as actual economic activity just yet. The U.S. economy only grew .7% at an annualized rate in the first three months of the year, according to a preliminary estimate from the Commerce Department. The economy has grown at just over 2% for the past three years and many expected similar numbers this year.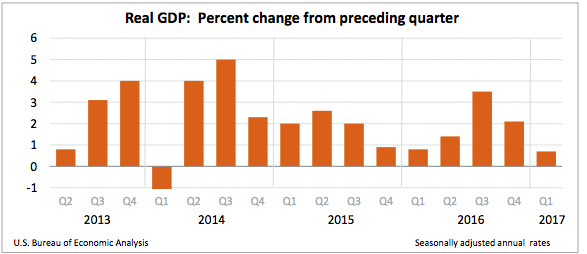 Hiring is also yet to reflect a new environment of raging business optimism. The monthly jobs report released on Friday morning showed the economy added 211,000 new jobs in April, almost perfectly in line with monthly reports from the last few years. The unemployment rate has ticked down to 4.4%, its lowest since May, 2007.
And while people say they are expecting good times ahead, they're backing away from buying new cars at a rate last seen during the financial crisis. Major car makers reported big falls in US sales for April: Ford's fell 7% from a year ago, GM's dropped 6%, Toyota's were down 4%, and Nissan's were off by 1.5%. It was the fourth consecutive month of falling car sales, the longest streak since 2009.
Some analysts say those slowing sales aren't necessarily signs of a worsening economy. Instead, many banks and finance companies have tightened up their lending policies for car buyers after years of relatively loose standards and booming car sales. The surge in car sales in the past two years has also increased the quality and supply of used cars, said Zandi.
Other signs point to a tougher environment for consumers who borrow money. Several lenders have reported big increases in the amount of credit card debt they are writing off — essentially money they are giving up on collecting. Capital One has increased its estimate for debt write-offs this year, and put aside money for future losses.
Because Capital One has focused on lending to sub-prime borrowers, it is "more prone to fluctuations in credit quality," CreditSights analysts said. At Synchrony Financial, which issues many store credit cards, debt write-offs increased in the first three months of 2017. CreditSights attributed the higher charge-offs across the industry to companies going after weaker borrowers in the past, and the aging of those loans.
"The economy doesn't move in a straight line," Zandi said. "That doesn't mean something fundamental is going bad, it's going good. The economy was on fundamentally strong ground a year ago, it's on strong ground now, it would take a lot to derail it."
If anything, the current, Trump-inspired highs in economic optimism could themselves pose a risk, Zandi said. "There is a potential that sentiment drives valuations to such levels that markets are vulnerable to something that may go slightly wrong."