This post has been updated to incorporate comment from a Goldman Sachs spokesman.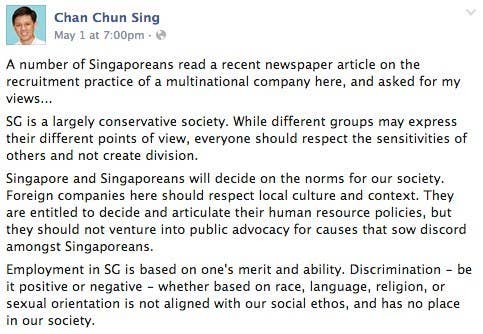 Goldman Sachs' recruitment of LGBT students in Singapore has attracted the ire of the country's conservative government in the latest collision between increasingly pro-LGBT global business norms and conservative local governments.
After the Singaporean publication MyPaper ran a piece Wednesday, "Wanted by Goldman Sachs: LGBT employees," describing an LGBT student event the bank had scheduled for May, Social and Family Development Minister Chan Chun Sing wrote a Facebook post referencing "a recent newspaper article on the recruitment practice of a multinational company here."
Sing said Singapore is a "largely conservative society" and wrote that "while different groups may express their different points of view, everyone should respect the sensitivities of others and not create division."
"Singapore and Singaporeans will decide the norms for our society," he said. "Foreign companies here should respect local culture and context. They are entitled to decide and articulate their human resource policies, but should not venture into public advocacy for causes that sow discord amongst Singaporeans."
"We hold recruitment events to attract talented people to our firm. Our goal is to hire the best people we can find and to build diverse teams that are a reflection of the clients we serve," said David Wells, a Goldman Sachs spokesperson.
Like India and many other former British colonies, Singapore has had a law criminalizing sodomy since it was under the rule of Great Britain. Singapore's High Court dismissed two challenges to the law in 2013, rejecting the argument that homosexuality is an unchangeable trait that would entitle gays and lesbians to protections from the courts. Instead, wrote Judge Quentin Loh, the question should be left to the political process.
But even as Singapore's leaders — joining their counterparts from Russia to Uganda — seek to define their political identities in part against expanded civil rights in Europe and the United States, many of the world's largest companies, based in New York, London, and Paris and focused on attracting the top talent in those cities, are moving in the opposite direction.
Much of the financial services industry has been publicly supportive of LGBT rights and protections for their employees. Goldman, Morgan Stanley, Credit Suisse, UBS, and Citigroup all signed an amicus brief supporting the overturning of the Defense of Marriage Act. And of them, Goldman has been the most open with its LGBT policies and advocacy.
Goldman's Chief Executive Officer Lloyd Blankfein said in 2012 that the bank's pro-gay views are "not without a price" and that it had lost a money management client due to its stance.
Blankfein also recorded a video for Human Rights Campaign voicing his support for marriage equality, saying, "Equality is just good business, and it's the right thing to do." When the Supreme Court overturned the Defense of Marriage Act, Goldman flew a rainbow flag outside its New York City headquarters.
Sing didn't mention Goldman Sachs specifically, and concluded his post saying "Discrimination — be it positive or negative — whether based on race, language, religion, or sexual orientation is not aligned with our social ethos, and has no place in our society."
The recruiting event with dinner and drinks, organized by Goldman Sachs' LGBT employee group, was described on Goldman's website as a "brief introduction to the firm and our culture and an opportunity to network with employees across the firm's various divisions."
Goldman also said it was sponsoring Pink Dot SG, an annual LGBT community event in Singapore. Last year, Barclays and JPMorgan were corporate sponsors of Pink Dot.
Additional reporting by J. Lester Feder.