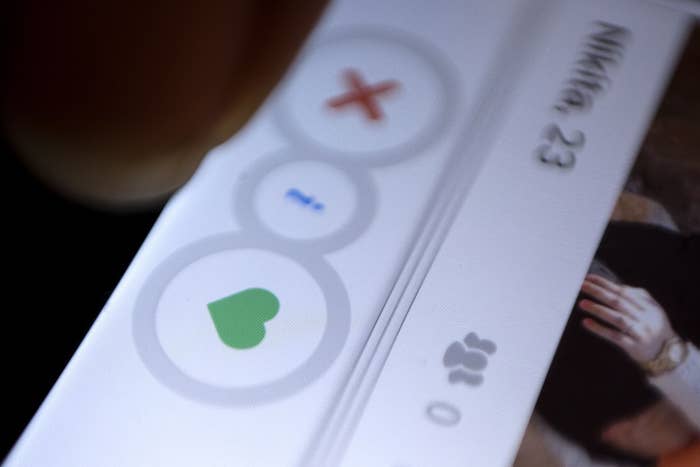 IAC, the internet conglomerate that owns dating sites like Match.com, Tinder, and OKCupid, has told its investors to expect a surge in mobile usage — but says the resulting surge in advertising dollars will take a little longer to arrive.
The company's online dating businesses are already booming, and revenue for IAC's Match Group, which runs dozens of dating sites and also owns the Princeton Review, grew 19% in the most recent quarter, IAC said Monday. But the company is going through a transition familiar to the rest of the internet economy — from desktop to mobile, with users moving to mobile faster than the advertising dollars that target them.
Match, which filed for an IPO earlier this month, said it will be relying on its existing subscription products "to continue to drive revenue growth even without enhancements." In the first half of this year, Match said in the IPO filing, 96% of its $433 million in dating revenue was "direct revenue" from paying users, while the rest was "indirect revenue" — almost entirely advertising. And on mobile, it's harder to convince free users to sign up for paid subscriptions.
"The continued shift to mobile devices in our businesses with pre-existing desktop businesses, while long-term positive, continues to present conversion challenges in the near term," said Greg Blatt, Match's chairman. "On average our mobile products have lower conversion than their desktop counterparts."
The best example is Tinder, an app that is mostly free to use and has been growing insanely fast. Match has started to sell ads on Tinder, a potential revenue goldmine as companies seek to reach the young and thirsty. Match has said that generating ad revenue "has historically not been a principal focus" and that on Tinder, it has sold less than 2% of all available advertising spots.
So while more ads will be showing up on Tinder in the long run, the company still needs to figure how to get people to pay for mobile products. Tinder has been charging for access to special features, and in prepared remarks today Blatt said that Tinder's subscription products "continue to perform well," especially its "Super Like", which "has driven an increase in subscription rates, an increase in match rates, and higher rates of conversations."
The Super Like, which can only be used once a day for free, lets users see that they have been liked before they decide to like someone back. If you want to do it more than once a day, you can get five daily Super Likes, plus other subscriber-only options, as part of the $9.99 per month Tinder Plus service (the company charges less than this for users in some international markets, and more for people older than 30.)
Ads are still not a priority for the dating app. "Tinder product resources are primarily now focused on growth initiatives, not monetization initiatives," Blatt said.
Tinder introduced ads in April, and in an earnings call in July, Blatt said "in a world of scarce resources we opted not to devote meaningful time this year to developing the sort of roadmap," but noted that "there's huge demand from advertisers." In June, Tinder co-founder Sean Rad said that users swipe right 20% of the time for brand profiles and that Tinder users watch the app's video ads all the way to the end at a significantly higher rate than other mobile video ads.
Match said in its IPO filings that it has 59 million monthly active users and 4.7 million paid users. The company said it would stop disclosing those numbers and instead disclose "average paid member count," which is the sum of paid subscribers at the end of every day in a quarter divided by the numbers of days in that quarter. Right now, the average paid member count is 4.2 million, up from 3.6 million a year ago.