Time Warner Cable's Top 4 Executives Could Get $135 Million For Selling The Company
Chief Executive Rob Marcus could take home $80 million.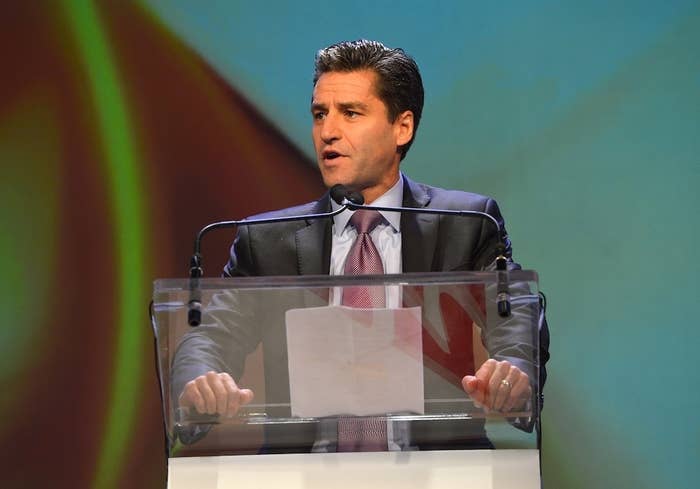 Rob Marcus served as CEO of Time Warner Cable for just 44 days before he announced a deal for the company to be taken over by its larger rival Comcast, and he's now eligible for $80 million worth of compensation in cash, stock, and other benefits. That's $1.8 million per day before the merger, according to regulatory documents describing the merger for shareholders released Thursday. Marcus' base salary is $1.5 million and his most recent bonus was $5 million.
In total, four senior Time Warner Cable executives — in addition to Marcus, Chief Financial Officer Arthur Minson, Chief Technology Officer Michael LaJoie, and Chief Operating Officer Philip Meeks — are eligible for $135 million in compensation. Time Warner Cable itself describes the money as "Golden Parachute Compensation" that the executives will receive if the announced merger with Comcast goes through by March 12 of next year, they're removed for cause following the deal, and assuming the value of their Comcast stock is $52.32.
While these types of payouts for departing executives have attracted the ire of shareholders, lawmakers, and the general public, in the case of Marcus, it's a reward for the job he was brought in to do. Bids for Time Warner Cable from Charter Communications, Comcast's chief rival in the pursuit of the country's second largest company, started at $114 a share in July and by October the smaller cable operator was offering $127. Marcus was able to reach a deal last month with Comcast for $159 a share with $45 billion worth of Comcast stock. Before the deal was announced, Time Warner Cable was trading at right around $135.
While Marcus did not officially take the title of CEO until Jan. 1 of this year, his predecessor Glenn Britt announced his plan to resign the chairman and CEO roles in July and said that Marcus would take over. According to the merger documents for shareholders released today, Marcus was negotiating with Comcast CEO Brian Roberts over a possible deal in October. The deal still has to close and is expected to get close regulatory scrutiny.