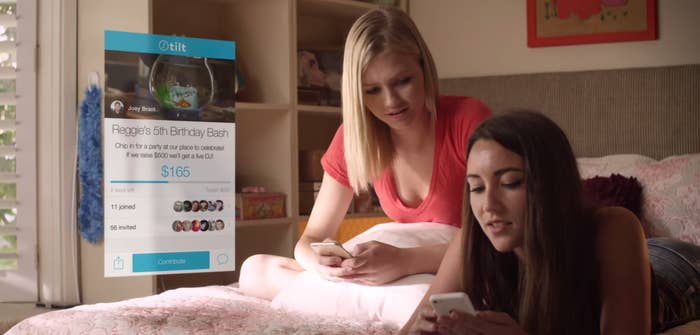 Tilt, a crowdfunding app used mainly on college campuses, is launching a payments service in direct competition with Venmo.
The company is joining a crowded field of Venmo competitors: Square Cash, PayPal.me (PayPal owns Venmo), the various apps of Wall Street banks, and money products from Facebook and Google. Despite all that competition, more than $4 billion in payments moved over Venmo in the past three months and the service grew by over 140%.
The way Tilt describes its payment product puts it in exactly the same places already ruled by Venmo: helping friends split restaurant bills, rent checks, and bar tabs.
Tilt's main use so far has been on campus, as an app for groups to raise money for things like fraternity parties or spring break trips. James Beshara, the company's 30-year-old founder, said the move into Venmo-style payments was inspired by requests from users. Trials of the service earlier this year showed that people who used the money-transfer functionality were also creating more crowdfunding campaigns, or "tilts" in company parlance.
"We saw it was pretty black-and-white," Beshara said. "The thing we care about is the future-oriented group collective aspect."
But it's tough to differentiate payment apps, and Venmo has become the Kleenex or Xerox of mobile money transfers, a brand name synonymous with the product. Beshara says his company's service will offer faster transfers to users' bank accounts (Venmo says transfers "typically" take one day, but can be delayed for longer) and be available in multiple countries when it launches, including Canada, the UK, and Ireland.
And in keeping with its roots as an app that helps a group of people raise money to pay for something, Tilt's payment service makes it easy to request money from a group of people. The fee structure is similar to Venmo: free for Visa and MasterCard debit cards, with a 3% fee for credit cards.
Tilt isn't adding the feature to raise revenue, Beshara said, but as part of an effort to "build the social network around money" and have a single app where people go to raise money for an event with others, or transfer money one-to-one.
"Five to ten years from now we shouldn't have to use one platform for a fundraiser and one for payments and one for a 5K race and training and one for a movie and one platform for trip to Hamptons," Beshara said.
While Tilt hasn't disclosed a valuation, it has raised over $60 million from Silicon Valley investors including Andreessen Horowitz, and is a graduate of the startup incubator Y Combinator. Beshara declined to share figures on its revenue or usage, saying only that usage more than quadrupled in the last year and about three-quarters of its users are either in college or graduated in the past two years.
The company makes money from partnerships with companies that use Tilt to process payments, like ESPN with fantasy sports, or special offers and sales. JetBlue has sold vacation packages through the Tilt app.
Beshara told BuzzFeed News that in the first few years of the company's existence – it was founded in 2012 — there was not much interest in "one-to-one" payments. The distinction was partly philosophical: Tilt was launched, he said, "to pull resources for group objectives in the future and unlocking cool ideas, from 15 people for a backyard barbecue or 1,400 people bringing the Foo Fighters to Richmond."