The Sports Business Can't Take Any More Money From Its Fans
The industry's growth now mostly involves extracting billions from television networks and advertising. Ticket sales and merchandising growth are slowing.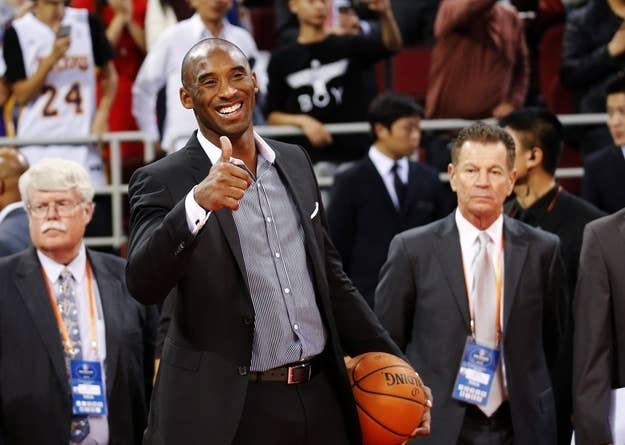 The future of the sports business isn't getting fans into seats, but broadcasters to the table.
According to a report from PwC, revenue from media rights and sponsorships, which are currently $25 billion of the North American sports industry's $53.5 billion total revenue, will grow to just over half of the $67.7 billion total revenue pie by 2017.
Ticket sales and merchandising will make up the other half and will grow at a much slower rate, 3.9% and 1.6%, respectively. Media rights and sponsorships, on the other hand, will advance 7.7% and 6% a year, respectively.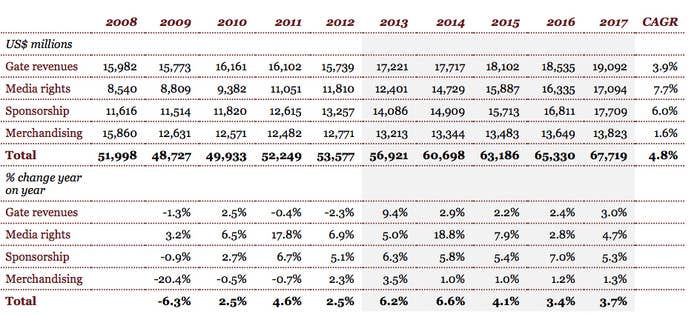 Turning the stadium into the most awesome living room ever:
Ticket sales simply can't go all that much higher, PwC said, even as the economy recovers from a recession that curbed most ticket price increases.
"Price increases beyond 2014 should largely remain nominal in established markets due to increased sensitivity to the value received by ticket buyers," PwC estimates, partially due to the increased quality of the at-home viewing experience. So NBC, CBS, and Fox, which pay a combined $3 billion a year just for NFL games, are actually getting the viewers to go along with it. Thanks, Cleatus.
The only hope teams have for getting more people to pay more will be "value-add amenities and benefits to create additional exclusivity and further differentiate the in-person fan experience." This means more areas of the stadium or arena that only some ticket buyers can go into, Texas-sized video screens, in-stadium Wi-Fi, and "party plazas/decks."
Sucking as much money out of TV networks as possible:
Sports broadcasts hold a unique place for advertisers and broadcasters: They can draw a huge audience of real, live viewers. Sunday Night Football demands just under $600,000 for a 30-second ad, the highest of any primetime show. The second biggest buy is American Idol for $355,000.
Another huge area for growth are local broadcast deals, which provide a huge number of consistent viewers over the course of an entire season for basketball and baseball especially. "Local media rights will also benefit from further roll-out and monetization of regional sports networks," PwC said. The Los Angeles Dodgers recently made a 25-year deal for between $7 and $8 billion, while the Knicks and the Yankees have entire cable networks built around showing their games.
Putting ads all over the place:
"(Sponsorship) growth will be supported by the new inventory and category rights resulting from new in-venue spaces and media platforms."
Translated out of consultantese, this means that teams and advertisers are viewing everything from stadium names to different entry gates (like at MetLife stadium) as other sponsorships to sell to advertisers. And PwC also said that brand executives aren't facing much backlash from shelling out millions to plaster their name all over stadiums: "Recent facility naming rights deals are a positive sign for the return of larger sponsor commitments and the ability of such investments to withstand the reported higher levels of scrutiny being placed on such corporate expenditures."
Selling hats, jerseys, T-shirts, jackets, bibs, underwear, towels, and anything else teams can throw a logo on:
Merchandise sales are expected to have the lowest annual growth through 2017, only 1.6%, largely due to the fact that merchandise sales can't grow much faster than the overall economy. "The relatively low projected growth rate," PwC says, "will hamper consumers' willingness to spend on merchandise." I guess they can only sell so many NASCAR heels.