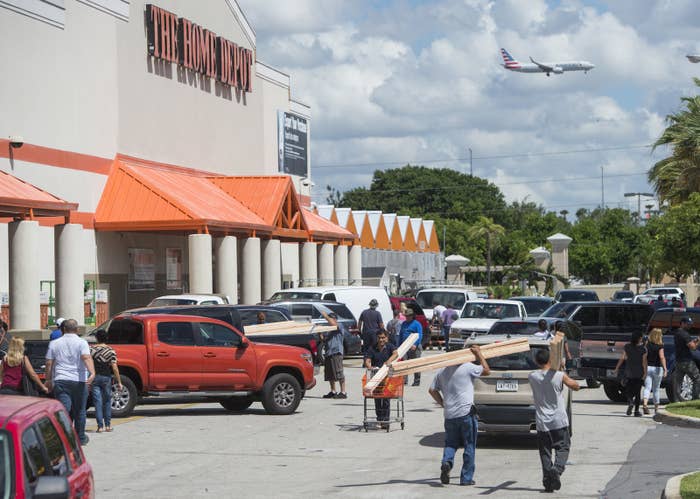 The home improvement giant Home Depot sold millions worth of plywood to board up windows and generators to keep homes powered through blackouts as a massive hurricane season wreaked havoc on the Gulf Coast and throughout the Caribbean.
The company said on Tuesday that its overall comparable sales were boosted by $282 million in the company's fiscal third quarter, although the profits on those hurricane-related sales were smaller than average. Overall, the company actually saw its profit fall by $51 million, as it also incurred $104 million in hurricane-related expenses.
Carol Tomé, Home Depot's chief financial officer, told investors that the company had $10 million in hurricane-related sales in August, $150 million in September, and $120 million in October. Hurricane Harvey made landfall on August 25, Hurricane Irma arrrived in Florida on September 10, and Hurricane Maria hit Puerto Rico on September 20.
The massive rebuilding efforts across the Gulf Coast and Puerto Rico are expected to increase the company's sales through the end of the year. The company said it expected its overall sales to jump 6.3% from 2016. Just three months ago, the company was only expecting 5.3% sales growth, a difference of about $950 million.

The boost, Home Depot said in a release, is "based on its year-to-date performance, underlying strength of the core business, and projected hurricane recovery sales."
Home Depot Chief Executive Craig Menear said on the earnings call that Harvey specifically will lead to months of repair and rebuilding. The protracted rainfall from the days Harvey spent over the Houston area will mean a "protracted" recovery where "people are ripping everything up down to the studs and starting over."
This has meant big sales for "lumber, wire, insulation, gypsum and hand tools," Home Depot's head of merchandising Edward Decker said on a call with analysts, along with "wet dry bags, tarps and ladders."