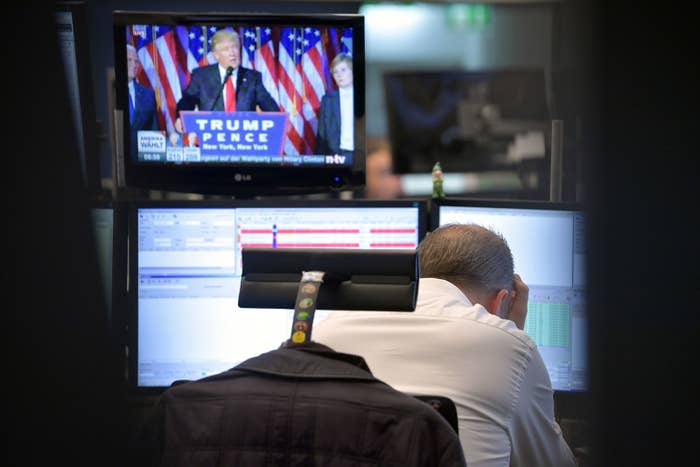 In the past two few days, markets had been trending toward a Clinton victory. The S&P 500 was up, as was the Mexican peso, which was feeling relief from the possibility of a Donald-Trump-fueled trade war.
That's all changing now that Trump has won. Futures for American stock markets have turned down dramatically. S&P 500 futures fell 5%, which is the limit on those securities set by the CME Group, while futures for the Dow Jones Industrial Average are down over 600 points, also about 4%.
"The market has fallen so much that the circuit breakers are on, we have no idea how much further it would go," Justin Wolfers, an economist at the University of Michigan who studied the market's reaction to Trump and Clinton's electoral chances, told BuzzFeed News.
He said that past data on how American stocks respond to Trump's going up in the polls indicate that there could be as much as an 8% drop in the S&P 500 during Wednesday trading.
"Global financial markets have reacted in predictable 'risk-off' fashion, with global stock markets and oil prices falling and gold and U.S. Treasuries rising. The Mexican peso has also fallen as has the U.S. dollar," David Kelly, the chief global strategist at JPMorgan Asset Management, said in a note.
Most of the world's major stock markets are down following Trump's shock victory: the Nikkei 225, an index of large Japanese companies, closed down over 5%; the main Australian index closed down almost 2%; and the main Hong Kong index finished down just over 2%.
Markets in Europe opened largely down — although many have already started to recover their gains. The DAX, a German index, is down over 1% after opening down over 2%, the Stoxx 600, a broader European index is down almost 1% after opening down 2%, while the FTSE 100, a UK index of large companies is almost even after a jittery start.

Many investors and analysts predicted that a Trump win would jolt stocks all over the world — not just because of how his policy agenda would play out if implemented — but also because of the uncertainty for business and investors with a volatile real estate developer in the White House.

"Financial conditions have already tightened, and businesses and households may delay or reduce spending due to the initial uncertainty around what a Trump presidency would entail," analysts at Nomura, a Japanese investment bank, said in a note Wednesday.

Fear spread to overseas markets not just because of the uncertainty that the reality star and political novice brings to the White House, but also fear that he may be able to follow through on his plans to rearrange America's trade relationships to benefit American producers of goods and disadvantage foreign exporters.
"His rhetoric...suggests he would aggressively try to renegotiate many existing trade agreements and challenge China on trade and currency policies, which could spark global recession-inducing trade wars," a team of analysts from Citi wrote in a note early Wednesday morning
The most dramatic fall belongs to the Mexican peso, which briefly rose to over 20 pesos to the dollar, and is now right around 20, a large drop in percentage terms from the 18.59 it was trading at the beginning of the day. The peso hit reached past 20.7 late last night, marking the largest one day move in the currency since the 1994-95 Tequila Crisis, according to the Financial Times.

Yields on the 10-year US Treasury bond, which often plunge when investors freak out about markets, are turning down dramatically to 1.72% early Wednesday morning, down from 1.89% earlier Tuesday before settling at 1.8%. When bond yields go down, prices go up — investors pile into US Treasury debt, which is considered the safest investment in the world. The yield had previously hit a six-month high as markets were largely placid and optimistic about a Clinton victory.
UPDATE
This piece has been updated with more recent data and an interview with Justin Wolfers.
UPDATE
This piece has been updated with more recent data to reflect changing market conditions.