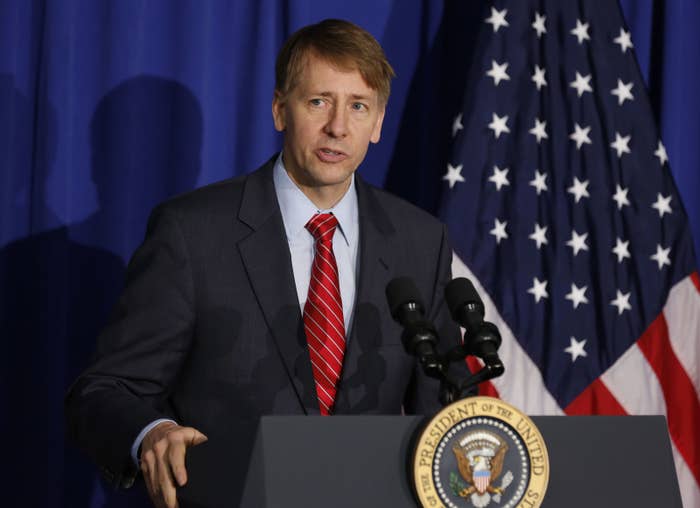 The Consumer Financial Protection Bureau has finalized regulations forcing payday lenders to determine before granting a loan if a borrower could actually pay it back while still meeting their living expenses both during the loan's term and for a month after. The rules will take effect in about two years.
Payday loans typically have terms of two weeks, or until the next time the borrower gets paid. Yet borrowers often do not have the money to pay back the loans by that deadline, and end up reborrowing, accruing more fees and interest each time and ending up in a "debt trap." Borrowers end up borrowing additional money to pay off their initial loan more than 80% of the time, the CFPB says.
"Lenders actually prefer customers who will reborrow repeatedly rather than who will repay the loan when it comes due. These lenders have no incentive to check if these borrowers can pay on time," the CFPB's director Richard Cordray said on a call with reporters.
To address this issue, the CFPB is also imposing a "cooling off" period — a 30-day break from issuing new loans to a borrower who has already taken out three short-term loans.
The agency — which is championed by Democrats, and widely loathed by Republicans — is also targeting how payday lenders collect payments from their borrowers. Currently, lenders' attempts to withdraw payments from checking accounts can sometimes incur insufficient fund fees for the borrowers, which only worsens their financial situation. The CFPB will soon require lenders to give written notice to borrowers before they try to debit a borrower's account and then, if they try to debit twice unsuccessfully, they can't try again without the borrower's permission.
"The CFPB rule limits payday lenders' ability to put families into a vicious cycle of debt by adopting the common sense requirement that lenders consider a borrower's ability to repay and by restricting the number of unaffordable back-to-back loans," Lauren Saunders, the associate director of the consumer advocacy group the National Consumer Law Center, said in a statement.
The average annual percentage rate on payday loans, according to CFPB data, is typically "around 390% or even higher."
An estimated 12 million or so American use payday loans, although exact data is hard to come by since the industry is scattered across jurisdictions and made up of many small shops. The lenders themselves are patchily regulated across states, and the advent of internet lending has made state-level interest rate caps more difficult to enforce. There are over 16,000 storefront payday lending locations, according to the CFPB.
The new regulation puts similar restrictions on two other categories of loans that can carry very high interest rates: auto title loans and "balloon-payment loans," a type of mortgage that is particularly hard to pay back.
Auto title loans — 30-day loans that are secured by the title to a borrower's vehicle — carry an interest a rate of around 300% typically, according to the CFPB, and about 20% of auto title loans end in default and the vehicle being seized.
So-called balloon payment loans work a little differently than traditional payday loans. Most of the payments are quite small, with then one payment toward the end of its term that is twice as large as the previous payments or that covers the entire principal. This loan structure often forces borrowers to get another loan to cover the payment.
The payday lending rule is scheduled to take effect in a bit under two years but could be overturned by majority votes in the House and Senate using the Congressional Review Act, a provision already used 14 times this year to strike out rules implemented toward the end of the Obama administration. Another Congressional Review Act vote to throw out a CFPB rule limiting the use of mandatory arbitration agreements passed the House in June but has yet to be voted on in the Senate.

The CFPB's director Richard Cordray and his agency have become lonelier voices in Washington, calling for stricter regulation that tends to be broadly opposed by the industry.
Opponents of the proposed new restrictions on payday lenders argue that such loans can be necessary to cover immediate cash flow or expense issues, like an especially large bill. Without payday loans, they argue, borrowers will just not pay bills, overdraft their bank accounts, or move on to even more expensive and exploitative lenders.
The president of the Consumer Bankers Association, Richard Hunt, said in a statement that the rules would "drive Americans to pawnshops, offshore lenders, high-cost installment lenders and fly-by-night entities." He said the CFPB should have "worked with other regulatory agencies to examine the use of small-dollar lending programs ... so Americans can receive short-term, emergency loans from their banks."
Rumors have been swirling around Cordray's ultimate fate in Washington, whether he will serve out his five-year term due to end in July 2018 or run for the Democratic nomination for governor in his native Ohio, where he was previously the Attorney General.