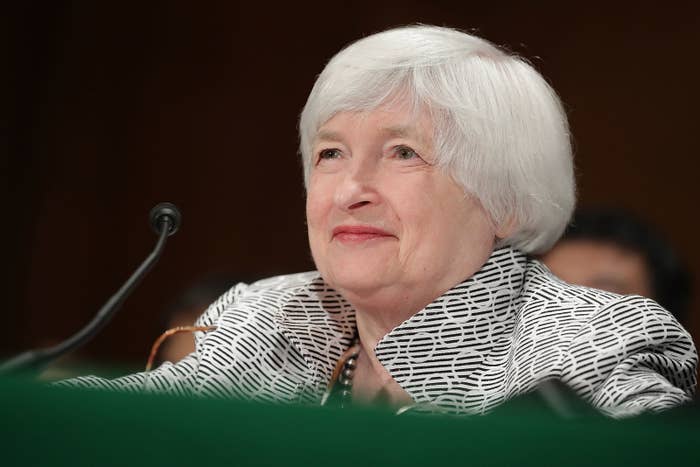 The Federal Reserve is standing still, deciding to keep the short term interest rate it controls between 1% and 1.25%. The central bank has hiked rates .25 percentage points twice this year, at its March and June meetings respectively, and is widely expected by analysts and economists to do so again at its meeting in December.
"The labor market has continued to strengthen and ... economic activity has been rising moderately so far this year," the central bank said in its statement. The Fed said that it expected economic activity to "expand at a moderate pace, and labor market conditions will strengthen somewhat further," despite short term disruptions from Hurricanes Harvey, Irma, and Maria.

Since the end of 2015, the Federal Reserve has very slowly started to reverse seven years of ultra-low-interest rate policies that were meant to help prop a recessed and then slowly growing economy. After its first rate increase in 2015, however, the central bank didn't again hike its short term rate for a year, thanks to economic weakness in the US and unstable global markets.
The Fed's rate hikes have meant higher rates on loans as well as more paid out in yield to depositors. Many banks, large and small, have projected their profits will increase as rates continue to rise and they are able to earn more from the difference on the rate they charge borrowers compared to what they're paying out.
Rates on loans have risen faster than rates on deposits because many banks deposits grew quickly after the financial crisis despite low rates, meaning they don't have to quickly hike rates to attract more. They can instead sit back and enjoy the profits.
The average rate for one year certificates of deposits has risen from .27% in December 2015 to about .4% today, according to data from Bankrate. The average interest rate on credit cards has gone from just under 15% to 16.7% according to CreditCards.com data.
While the US economy and especially its labor market has been relatively strong — unemployment has been below 5% since early 2016 — there has not been much indication that prices are starting to seriously accelerate, which traditionally prompts the Fed to pull back the reins and raise rates. Inflation in consumer items besides food and energy — whose prices are more volatile and move around in response to commodities prices — has been below the Fed's target level of 2% for almost the entire post-recession period.

The Fed's modest tightening efforts despite low inflation has attracted criticism from both economists and some left-wing activists who say the central bank is choking off economic growth for the sake of preventing nonexistent inflation. That inflation has been so persistently low despite economic growth and low unemployment is something of an economic mystery — everything from Amazon to cutthroat price competition between cell phone providers. Neel Kashkari, the president of the Minneapolis Fed and a member of the committee that sets monetary policy, has opposed past rate hikes.
The Fed also said it would start to undo another one of its great experiments to pump up the economy in the midst of the financial crisis and the economic doldrums that followed. The central bank will begin in October to wind down its over $4 trillion portfolio of mortgage bonds and US federal government debt that it accumulated in a series of purchases since late 2008.

Yellen said in June that the Fed wanted to "to reduce our balance sheet in a gradual and predictable way" and that, hopefully, the process "will just run quietly in the background over a number of years."