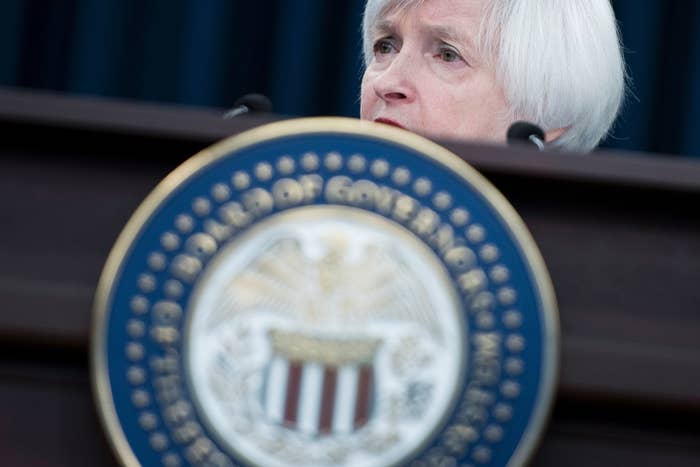 The Federal Reserve decided to hike interest rates again on Wednesday, increasing the short-term measure it controls, the federal funds rate, by about 0.25 percentage points to between 1% and 1.25%. It was the fourth such hike since December 2015, and will pump the brakes on economic activity.
Rates had hovered at just above zero for seven years, as the Fed tried to stimulate the economy during and after the financial crisis and Great Recession.
When the Fed last hiked rates in March, the officials who set monetary policy predicted there would be two more rate increases this year, and many Fed-watchers predicted the next one would come in September. While unemployment has trended lower in the last year, sinking from 4.7% to 4.3%, inflation, the change in consumer prices over time, has remained below its 2% target, which suggests that the economy is not in imminent danger of overheating.
The Federal Reserve is charged with maintaining "maximum employment, stable prices, and moderate long-term interest rates." The Fed has since said that a 2% inflation rate is "most consistent over the longer run" with that mandate.
In its statement on the rate hike, the Fed said that "the labor market has continued to strengthen and that economic activity has been rising moderately so far this year," while "inflation has declined recently and, like the measure excluding food and energy prices, is running somewhat below 2%." The Fed also noted that consumer spending and business investment "has continued to expand."
The Federal Open Market Committee, which makes monetary policy decisions, had only one dissenter against the decision, Neel Kashkari, the president of the Minneapolis Fed.
The Fed's move to hike rates despite inflation being below the 2% target for years has drawn criticism, especially from the left. A group of economists has called for the central bank to rethink the target entirely.

Another rate hike will likely mean slighter higher rates on consumer financial products like home and auto loans as the change moves through the financial system, but will likely not substantially affect interest paid to consumers on savings accounts or certificates of deposits.
Despite years of zero or near-zero rates, deposits have flooded into banks. At the same time, with interest rates so low, those banks have had to price their loans very competitively. By increasing the price of their loans and keeping rates paid out to savers low, banks can get back some of the profits they've missed out on in previous years.