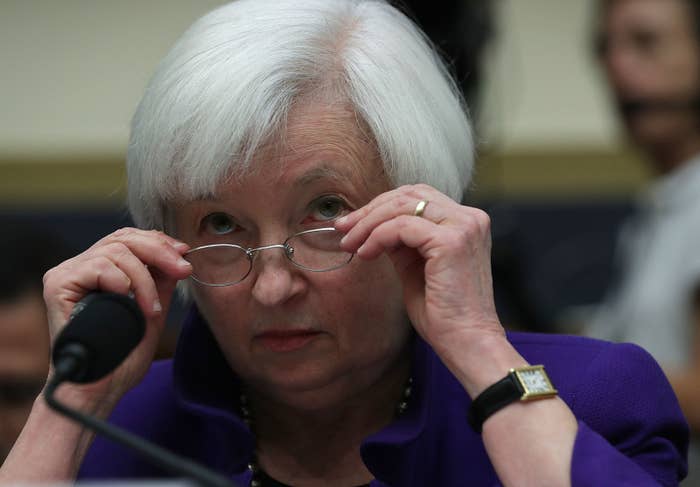 The Federal Reserve said Wednesday it was raising the federal funds rate, the interest rate it controls, to between .5% and .75%, up from the .25% to .5% rate it has sat at since December 2015.
"The labor market has continued to strengthen and that economic activity has been expanding at a moderate pace since mid-year," the Fed said in its statement. "Job gains have been solid in recent months and the unemployment rate has declined."
This is the first increase since last December, when the Fed ended a seven-year stretch of near-zero interest rates that began in the wake of the financial crisis. Weakness in the U.S. and global economy through 2016 meant no more rate rises followed.
The Fed usually raises interest rates when the economy is growing, unemployment is low. Its refusal to do so in the last year became an issue of political controversy during the presidential campaign.
Donald Trump repeatedly criticized the Fed on the campaign trail. During a September presidential debate he said the Fed's policies were leading to a stock market bubble. He accused Janet Yellen, the Federal Reserve chair, of "doing political things" by keeping interest rates at such a low level. "When they raise interest rates, you're going to see some very bad things happen, because they're not doing their job," he said.
The low rates, Trump said, had created a "big, fat, ugly bubble," in the stock market that had failed to help the rest of the economy recover from the Great Recession.
Trump had earlier warned in May that that a rate hike would be "a disaster." But later in September he said that "at some point the rates are going to have to change." After the Fed didn't raise rates at its October meeting, Trump said a week later that Yellen, a Democrat, was "highly political" in her decision making.
A higher federal funds rate typically passes through the whole financial system, raising rates on everything from mortgages to savings accounts. Traditionally, higher interest rates are used to slow down an economy that's on the verge of overheating due to runaway increase in consumer prices.
While unemployment is down to 4.6% — its lowest rate since before the financial crisis — inflation, the percent change in consumer prices over time, is still only at 1.6%. That's its highest rate in over two years, but still below the Fed's target of 2%. The mandate of the US central bank is to set monetary policy to encourage employment to be as high as possible while not leading to accelerating inflation.