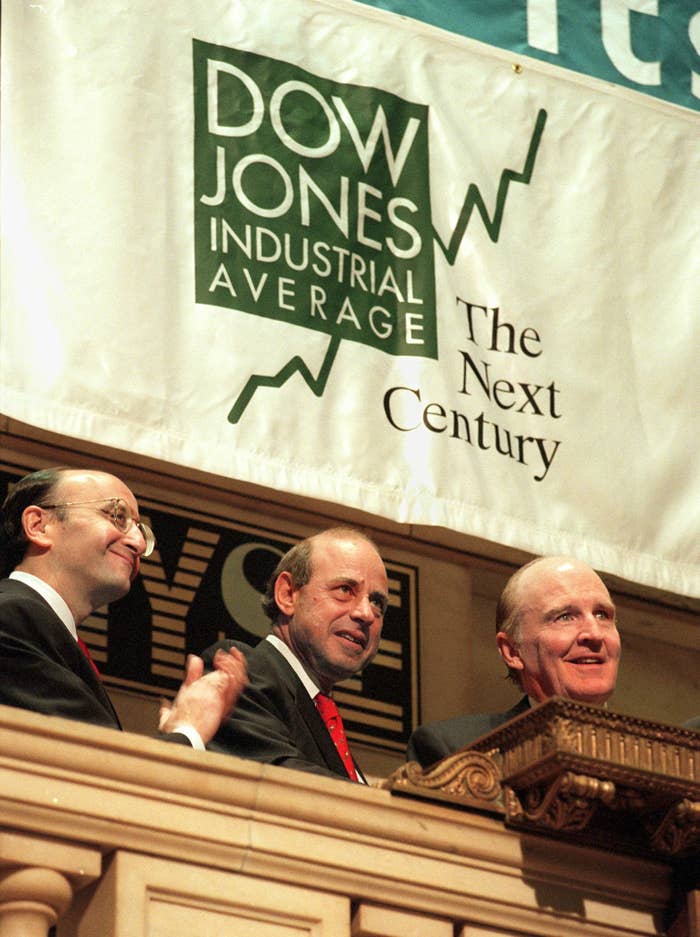 The Dow Jones Industrial Average hit 20,000 for the first time on Wednesday. That doesn't mean much — the Dow is no longer the gold standard for measuring the markets, and 20,000 is just a number — but for whatever is does mean, the election of Donald Trump has a lot to do with it.
The Dow is an index of just 30 giant companies that were chosen by a committee to represent the US economy (but not, for some reason, the transport or utility sectors). And the index moves based not on the overall value of those 30 companies, but on the dollar prices of their shares.
This means when the Goldman Sachs share price goes up from $236 to $237 — adding about $415 million to its valuation — it moves the Dow index more than when Apple goes from $121 to $122, even though Apple would be worth about $5.3 billion more.
"The Dow hit 20,000. The Queen of England turned 90 last year," wrote Bankrate analyst Greg McBride on Wednesday. "Both are round numbers. Neither carry any real significance."
But nice round numbers aside, there's a real thing happening across financial markets: stocks have risen steadily since Donald Trump's election, flying in the face of pre-election predictions that the uncertainty of radical political change would cause investors to panic. The Dow is up 9% since the election, and the S&P 500 — the most widely referenced measure of the overall stock market — hit its all-time on Tuesday and has risen 7% percent since the election.
So 20,000 may just be a number, but some market-watchers say it's a number closely tied to what people believe will happen to the US economy.
"The speed of the directional change since the election reflects the change in expected specific forward spending and potential profits," said Howard Silverblatt, a senior index analyst at S&P Dow Jones Indices, "with the emphasis being on 'expected.'"
Plenty of corporate executives and investors in their companies now believe Trump's economic policy will lead to faster economic growth — and more specifically, to a more profitable environment for heavily regulated companies.
Take Wall Street, for example.
Goldman Sachs is the largest component of the Dow — it makes up over 8% of the index — and the company's 30% rise since November has been responsible for over 20% of the Dow's gains over the same period. The Wall Street Journal called Goldman the "MVP of a Dow 20,000."

JPMorgan Chase, which makes up almost 3% of the Dow index, has been responsible for about 6% of its growth since the vote.
"If there's some regulatory relief, you will see banks be more aggressive and growing, opening branches in new cities, adding to loan portfolios, seeking out clients they don't have," JPMorgan CEO Jamie Dimon said on an earnings call earlier this month.

Bank of America, which isn't part of the Dow, is up 37% since Trump's victory.
"People feel it's different because the atmosphere, the consumer confidence, the business confidence is completely different," Bank of America CEO Brian Moynihan said at a December conference.
"The optimism for positive change here at Bank of America and among our customers is palpable and has driven bank stock prices higher. We'll have to see how these topics play out but that we are optimistic," Moynihan said during a January earnings call.
It isn't just bankers: regular people are getting in on the optimism. Gallup's economic confidence index, which measures people's perception of current economic conditions and whether they are getting better or worse, has soared since Trump's win and hit a new all time high this week.
Another consumer sentiment survey done by the University of Michigan found that the the post-election surge in optimism "was accompanied by an unprecedented degree of both positive and negative concerns about the incoming administration spontaneously mentioned when asked about economic news."
Dimon, the JPMorgan chief, has pointed to a wide range of indicators that suggest the economy is in fine form. "If you look across the broad spectrum, [capital expenditure], business confidence, consumer confidence, household building, household formation, wage income, wages going up, unemployment going down, auto sales going up, retail sales going up, it looks like it's getting stronger, not weaker," he told analysts earlier this month.