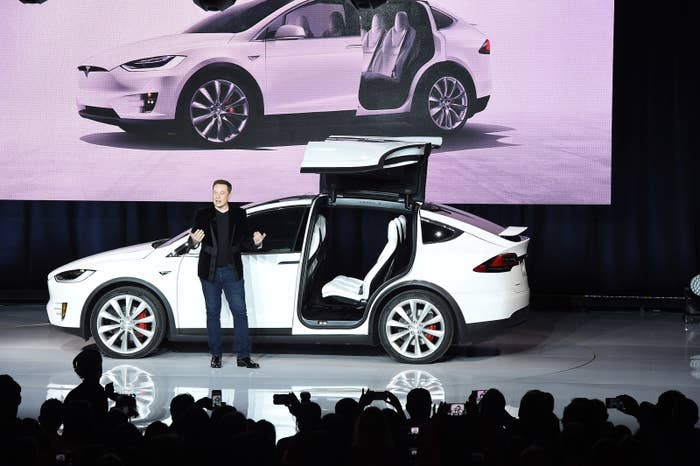 Tesla, the loss-making electric car company that sold about 84,000 vehicles last year, is now worth more than Ford, which sold 6.7 million cars in 2016 and turned a $4.6 billion profit.
Valuations for the two companies converged in recent months, as Ford slid and Tesla surged. But on Monday morning, boosted by an announcement of record sales in the first three months of 2017, Tesla's share price rose by almost 5%, pushing the company's valuation to over $47 billion. Ford stock slid by 2.5%, giving the company a valuation just over $46 billion.
Tesla is now America's second most valuable car company. GM, the current number one, is worth about $51 billion.
Here's the market valuation of Ford, in light blue, and Tesla, in black, over the last 12 months, up to the close of trading Friday
How wildly optimistic are investors about electric cars? Based on its current market price, Tesla is worth about $600,000 per vehicle sold in 2016, while Ford is worth about $7,000, according to calculations by Barclays analyst Brian Johnson.

The stock market, of course, is supposed to reflect how investors rate the future of a company, not its past. On that front, Tesla, founded in 2003, has plenty of reasons for optimism. The company is right at the front of the two biggest trends in the industry: electric engines and self-driving cars.
And its revenues are heading up, fast: in 2016 it brought in $7 billion, up 73% on the year prior and up almost 1600% compared to four years ago. Ford's revenue barely moved in 2016 and is up about 14% since 2012.
Analysts expect Tesla's revenues to keep surging as it releases more affordable models — their best guess is the company could sell $19 billion worth of cars in 2018, according to data collected by S&P Global Market Intelligence. Ford, on the other hand, is expected by analysts to see its revenues fall slightly in the same period.
Ford, like other major carmakers, is making sizable investments in self-driving technology and electric vehicles, but none have captured the imagination like Tesla. Imagination or not, Ford is in good shape to benefit from lower gas prices, as buyers move away from sedans and towards Ford's more profitable SUVs and trucks.
But it's easy to see why investors have a crush on Tesla. If the future of of transport involves a network of self-driving electric cars, powered by batteries that charge with solar power, Tesla has set itself up to benefit from it. The company is rushing to build a giant battery factory, and now owns a major solar power business as well.
Tesla stock has risen 22% in the last year, and 714% in the last five years. Ford shares, on the other hand, have fallen by 11% and 5% in the last 1 and 5 years respectively.
Tesla also earned the endorsement of another massive technology company on Tuesday, when Tencent, the Chinese internet conglomerate that runs the social network WeChat, bought 5% of the company. Tencent is a "new adherent" of the "Tesla cult," Johnson wrote.
Some still have their doubts. Hedge fund manager Jim Chanos has long questioned Tesla's business prospects, and those of its recently acquired solar energy business, Solar City, saying that the loss-making car company would constantly have to take new money from shareholders to fund its losses.

Johnson said in February that the jump in Tesla stock (the shares fell after the election and started rising again in December) had "less to do...with anything around the near-term financials, and more to do with the nearly superhero status of Elon Musk."