Student Debt Continues To Climb, Up Another $31 Billion To $1.11 Trillion
So far this year, student debt has grown faster than any kind of household debt and has the highest delinquency rate.
Student debt is growing faster than any other type of individual debt, topping $1.11 trillion in the first quarter of this year, up $31 billion in the last three months. The new data from the Federal Reserve Bank of New York shows that of the $129 billion increase in household debt from the last quarter of 2013, almost a quarter came from student debt alone. While overall consumer debt grew just over 1%, student debt grew 29%.
Students are also having the hardest time paying back their loans, compared with credit card holders, homeowners, car buyers, and home equity debtors. The 90-day delinquency rate for student loans grew again, to 11.5% from 11%, while the next most delinquent debt, credit cards, topped at 9.5%.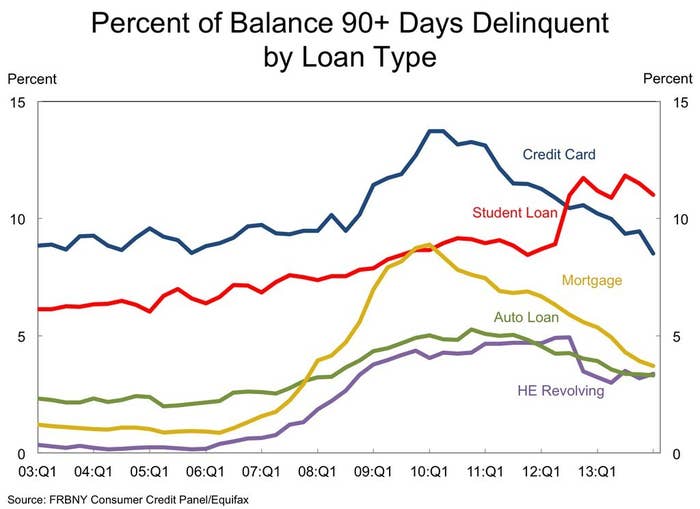 Student debtors are staying out of the housing market.
It's not just hedge funders that are worried about young people buying homes. According to three New York Fed economists, before the recession, 30-year-olds with some student debt were more likely to own a home than those without, largely because they had more education and higher incomes. However, since then, the pattern has been reversed. While homeownership rates declined for everyone, they "declined most for those 30-year-olds with histories of student loan debt." And the pattern held up in 2013, the economists say: "Student loan holders were still less likely to invest in houses than nonholders in 2013, despite the marked improvements in the aggregate housing market."
The three researchers don't say directly why this shift has occurred — all young people were more likely to get car loans regardless of whether or not they had student debt — they suggest that it could be the rising burden of student debt, inability to get loans on favorable terms, lower expectations for incomes in the future, or "perhaps even a culture shift by which young people ... are deferring home purchases."
Fewer young people have home loans, but especially student debtors.