Markets all over the world were down today.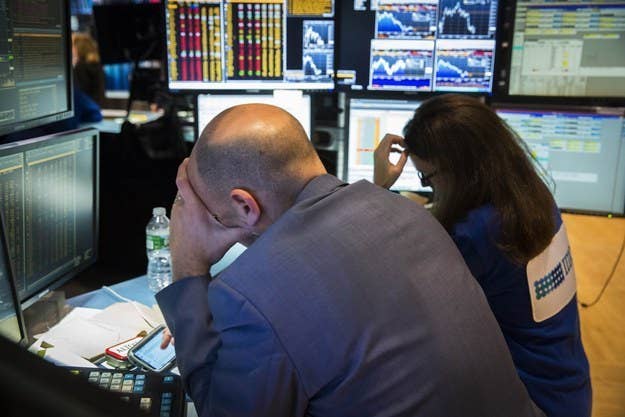 The Dow finished down 1.1% while the broader S&P 500 was down .65%. Earlier today stocks were down almost 3%, the largest dip since November, 2011. The S&P 500 is down 7% in the last month.

The stock market weakness isn't just in the U.S., which has actually had a stronger economy relative to the rest of world. Stocks in Europe were down considerably too. The Euronext 100, an index of blue-chip European stocks, was down 3.4%

German stocks were down almost 3% and the government has cut its outlook for economic growth. This is especially worrying because it's supposed to be the economic stronghold of Europe.
Peripheral European countries, like Greece, really took it on the chin. The Athens Stock Exchange was down over 6%.
All this lead to one of the steepest intraday crashes in Treasury yields. Big one day moves like this are exceedingly rare and are usually associated with economic or political turmoil.

10 year US government bond yields crashed, at one point falling 34 basis points to 1.87% percent, the biggest drop since March, 2009, according to the Financial Times. Yields move in reverse relation to price, showing that investors are buying up the bonds. This move down was unexpected at the Federal Reserve's massive bond buying program, known as quantitative easing, ended in October.
These types of large drops are usually associated with economic turmoil as investors flee riskier stocks for the relative safety of debt. In the late afternoon, the 10-year yield is at 2.1, dropping .09 on the day. On a range of medium and long term debt, yields are down about .5% from their September averages, according to analysts at Nomura.
The one-day drop, while part of that overall trend, is still noteworthy. David Schawel, a portfolio manager at Square 1 Bank, said the move was "statistically very very unlikely" and said it was "probably a confluence of risk-off, bad data, and probably massive position unwinding of some players."
Why did this happen? Before the market opened, there was a trio of disappointing economic indicators.
Producer Prices
The producer price index, which measures the prices businesses charged for wholesale goods, dropped in September, the first such drop since August of last year. Producer prices dropped .1%, while economists surveyed by Bloomberg were expecting a .1% increase. While on its own this wouldn't necessarily cause a huge market drop, combined with persistent concerns about deflation — prices dropping across the economy, which can cause investment and spending to dry up. Five-year breakevens, a measure of investor expectations of inflation, dropped to 1.44% and have fallen from 1.9% two months ago.
Empire State Manufacturing Survey
The Empire State Manufacturing Survey, which measures the activity of manufacturing companies in New York state, showed an unexpected drop. Released Wednesday morning, the New York Fed said the 21 point drop in the index showed that "the pace of growth slowed significantly from last month." The part of the index that tracks new orders by businesses went negative, which the New York Fed said was "evidence of a slight decrease in orders."
Retail sales
Perhaps the most worrying piece of new economic data that came out this morning was retail sales. The Commerce Department number showed retail sales dropping .3% to $442.7 billion in September. Economists surveyed by Bloomberg were expecting a .1% drop.
Banks especially were hammered, with JPMorgan, Citi, and Bank of America, all falling 3.5% or more. This is despite reporting decent earnings earlier this week and having better results in their lucrative trading businesses than expected.
Mike Mayo, an analyst at CLSA, described the big move as "just risk-off, these are the firms deemed more risky, there's more risk in the market, therefore sell." What he means is that when investors behave where they pile into risky assets or non-risky ones depending on their perception of the economy, banks suffer especially when investors fear risk. Also bank executives have said they are looking forward to higher Treasury rates fall (and higher yields). While banks own large portfolios of securities that go up in value when yields drop, higher rates can mean more profitable loans and more trading profits.
Short-term yields, which generally have a closer relationship with bank profits, have also been falling, with 2 year Treasury yields down .06% today to .31%. On October 3, the the 2 year was yielding .56%. "With the move made in short rates investors are realizing that upside might be further away than they thought," Schawel said, "it's not rocket science, the move in short rates is really hammering banks."
One the most striking indicators of slow gobal growth in the future is the price of oil crashing. With the Middle East more unstable than at any pointin years, the price fell $.16 today to $81.69 but is down $11.52, or 12%, in the last month.