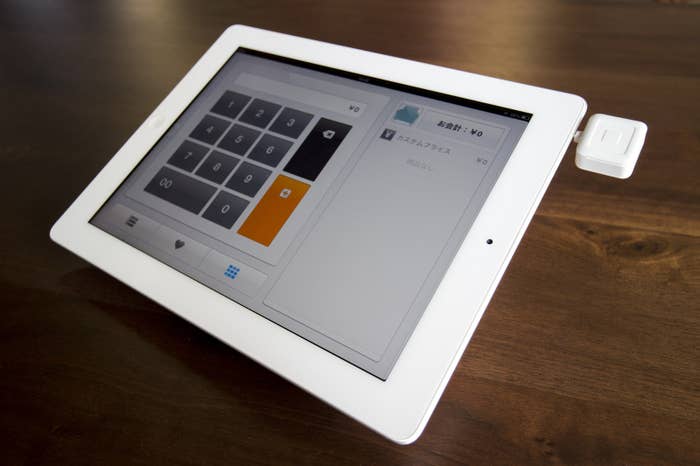 Tech mogul Jack Dorsey's other public company is having some trouble making money. After a rough few quarters at Twitter, Dorsey's Square, which processes payments for merchants and sells software to small- and medium-sized business, reported its earnings for the first time as a public company on Wednesday.
Despite Square's quarterly loss, investors liked what they saw in the earnings report, sending the stock up almost 3% in after-hours trading.
Square had total revenue of $374 million in the fourth quarter, above analysts' expectations of $345 million and a 49% increase from a year ago, while it recorded a net loss of just over $80 million. All told the company processed some $10.2 billion in payments in the last three months of 2015, a 47% jump.
Square IPOed for $9 a share in November, with the stock surging to $13 on its first day of trading. By early February, however, Square shares dropped below the initial price and became a representative of the post-IPO doldrums of technology companies. Since then, however, the stock has surged, closing at just over $12, rising over 4% just on Wednesday.

Mark Palmer, an analyst at BTIG Research, said in an note last week that today's earnings report was "its first opportunity to change the narrative."

Square is best known for its payments service, a fiercely competitive business that requires Square to give up a big chunk of its fees to credit card networks (a little more than half of Square's annual revenue is coughed up in transactions costs). Its other businesses, including scheduling software, analytics software, and even cash advances, are growing faster than payments but still represent a small fraction of overall revenue.
Square's Non-Payment Business Is Growing Quickly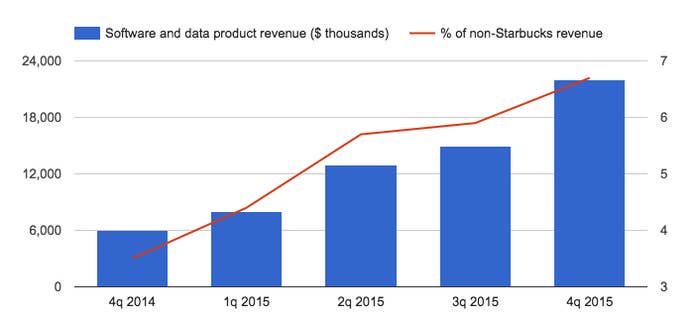 "From payment processing to point of sale, hardware to software, business financing to payroll (and more), we have built a cohesive commerce ecosystem that helps sellers start, run, and grow their businesses," the company said in an investor letter.
Analysts at Royal Bank of Canada called Square Capital, the merchant cash advance business, "arguably one of the more important drivers to total revenue growth." As a whole, however, all the software and analytics revenue, some $22 million, made up only 6.7% of all the company's revenue, excluding revenue from Starbucks, in the last three months of year. (Payment processing at Starbucks locations makes up about 13% of Square's revenue, but the companies' payments deal expires later this year.) The $22 million in revenue, however, was a 272% jump from a year ago.
As for its cash advance business, which generates revenue from interest, the company said that it had extended over $400 million to merchants through more than 70,000 advances in 2015, with $150 million of that coming in the fourth quarter.