Snapchat's parent company shot up in value by 44% in its first morning of trading, with investors on the New York Stock Exchange valuing the company at $34 billion after its first full day of trading. Snap's shares opened at $24, a 41% jump from its IPO price of $17. The shares briefly rose to above $26 but fell back down closer to their opening price by the end of its first day.
The big bump and rich valuation sets a high bar bar for a company that lost $515 million last year.

On Wednesday, institutional investors bought Snapchat stock at $17 a share, the company said, valuing it at around $24 billion and creating expectations for dramatic growth in users and revenue. The company will now spend the coming years trying to live up to those expectations.
Snap Inc, Snapchat's parent company, lost more than half a billion dollars in 2016, bringing in $405 million in revenue while spending $925 million.
The $24 billion initial valuation was slightly above the range the company aimed for two weeks ago when its plans were made public. It's not uncommon for the price of shares in an IPO to rise slightly from the company's initial estimate. About $3.4 billion worth of Snap shares were sold in the IPO, with existing investors taking home about $935 million from the sale and the company pocketing the rest. It's biggest tech IPO since the Chinese e-commerce giant Alibaba raised $22 billion in 2014.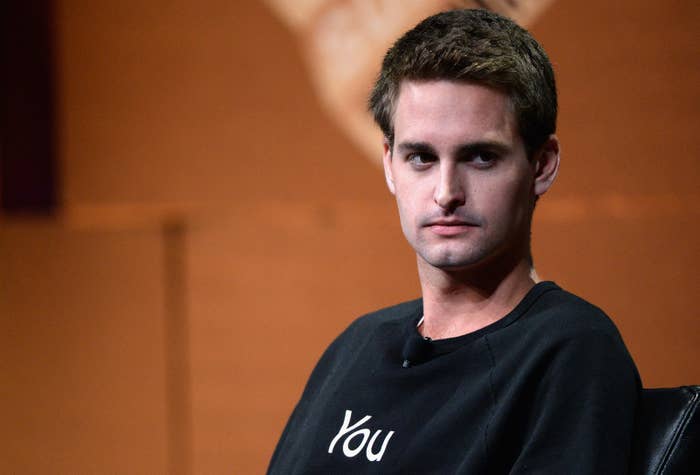 At $24 billion, Snap was considerably less valuable than the $104 billion Facebook was valued at when it went public in 2012, but more than twice Twitter's current $11 billion valuation.

And speaking of Snapchat's 140-character-cousin: Twitter has become a cautionary tale for what happens when a hot social media company goes public but can't meaningfully grow its user base or live up to a sky-high valuation (Twitter's market value hit almost $25 billion on its first day of trading). Some analysts and investors fear that the same fate could befall Snapchat, whose user growth has slowed down recently.
The seven year old company, first called "Future Freshmen LLC," has made its cofounders Evan Spiegel and Bobby Murphy billionaires. Counting a stock award for completing the IPO, Spiegel's stake in his company is worth just over $6 billion, while Murphy's is worth about $5.1 billion. The two control almost 89% of the total voting power of the company, partially through their even split of a class of stock with ten votes. The shares sold to the public entitle their holders to zero votes in company matters.
The company's shares are trading on the NYSE under the ticker "SNAP."
The company initially targeted a valuation in its IPO between $20 and $25 billion, the Wall Street Journal reported. At the end of 2016, the company calculated that the fair value of its shares was $16.33, according to its IPO filing.

Will Alden and Alex Kantrowitz contributed reporting to this article.