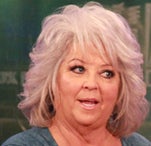 Paula Deen won't be bringing home the bacon any longer — at least not for Smithfield Foods. The Virginia-based pork producer, which is in the midst of a $5 billion takeover by Chinese meat giant Shuanghui International, announced Monday it had terminated its relationship with Deen on the heels of her racially insensitive comments brought to light in a deposition during a workplace discrimination lawsuit.
But while getting dropped by the Food Network and Smithfield will certainly eat into what Forbes estimates to be Deen's $17 million net worth from television contracts, restaurants, and endorsement deals, the move could end up hurting Smithfield more.
Deen's fans promptly took to Smithfield's Facebook page to denounce the company's decision to drop Deen, vowing to never again purchase a Smithfield product. Some commenters even went so far as to connect the move with Smithfield's decision to sell to China's Shuanghui.
"You ought to be ashamed of yourselves! First you sell out to the Chinese and now you are dropping a true American figure, Paula Deen," wrote one commenter.
The backlash against Smithfield is similar to the backlash that Deen supporters mounted on the Food Network's Facebook page after the channel dropped the chef from its lineup with one key difference: If a boycott of Smithfield products does ensue and its sales drop precipitously, it could have implications for the merger, which is still subject to regulatory and shareholder approval.
Shuanghui agreed to pay $34 per share to acquire Smithfield at the end of May. As with any takeover, the deal is still subject to regulatory and shareholder approval. It would stand to reason that if a boycott by Deen's fans significantly altered Smithfield's sales, so too could it affect the chances of the deal receiving approval — at least at the current offer price — from Shuanghui's investors. Indeed, as the takeover's proxy filing noted and Buzzfeed pointed out last week, Smithfield in April worried that lower-than-anticipated fourth quarter results might derail Shuanghui's interest.
Deen has been a major endorser and promoter of Smithfield's hams since 2006. In recipes Deen posted to the Food Network website, she specifically recommended using Smithfield products.
Already, the deal is expected to face massive regulatory scrutiny. According to a Reuters report, it is facing opposition from members of Congress concerned about potential food safety and antitrust issues. Specifically, Senate Agriculture Committee Chairwoman Debbie Stabenow, a Democrat from Michigan, said she's troubled by a recall of Shuanghui products two years ago due to a banned chemical found in its meat, among other issues the Chinese meat producer has had with food safety. And Republican Sen. Chuck Grassley of Iowa sent a letter to Justice Department antitrust division Asst. Attorney General William Baer earlier this month detailing concerns over how a Smithfield-Shuanghui merger could affect "consumer choice and the price of pork."
A Smithfield representative would not comment beyond a statement condemning the use of offensive language and behavior by anyone the company has a partnership with, citing its goal of being "an ethical food industry leader" and ensuring the alignment of its values and those of their spokespeople.
Dropping Deen could be read as a preemptive strike to be transparent and avoid an unnecessary public relations headache while trying to push its deal with Shuanghui past regulators, though one Smithfield analyst we spoke with thinks the issues are unrelated.
For now.