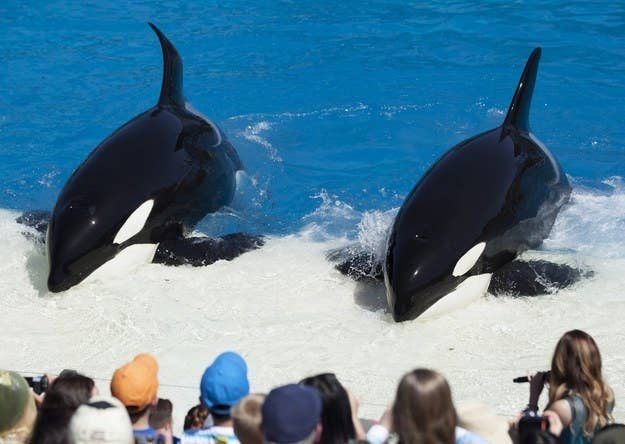 SeaWorld Entertainment has had another disappointing quarter, with revenue and attendance decline as the public continues to sour on the theme park following accusations of animal cruelty and endangerment of trainers in the hit documentary Blackfish.
The company's revenue for the third quarter fell 8% to $496 million, while profits of $87 million fell 28% from a year ago. The driver of the poor performance is flagging attendance, which fell by 500,000 to 8.4 million.
The company said that the attendance decline is due to a "combination of factors" including "negative media attention in California along with a challenging competitive environment, particularly in Florida." In March, a California lawmaker proposed a bill that would ban live orca performances in the state, thus reviving the negative press brought on Blackfish in one of SeaWorld's largest markets.
SeaWorld's short life as a public company has been nearly entirely subsumed by the public debate prompted by Blackfish. The private equity firm Blackstone took the company public in April of last year and Blackfish aired on CNN in October.
The company's shares are down 12.5% in morning trading, down to $16.28. At its current price, SeaWorld stock is down more than 50% from its IPO.
"Clearly 2014 has been a challenging year," SeaWorld CEO Jim Atchison said in a statement, adding the company is "adjusting our attraction and marketing plans to address our immediate top-line concerns."
Earlier this year, Atchison said during a conference call that the company "can see no noticeable impact on our business," and described accusations that it mistreats animals as "a fundamental mischaracterization."
The company also says it has a cost savings plan to reduce costs by $50 million a year by the end of 2015. It said that the decline in revenue and attendance was driven by the good year it had in 2013, specifically the "Antarctica: Empire of the Penguin" dark ride and the expansion of its Orlando park.
The amount of revenue SeaWorld gets per attendee also fell 5% to $36.47 "primarily as a result of an unfavorable change in the park attendance mix," the company said, as well as an increase in promotions to attract more visitors.