Russian Money Laundering Case In New York Court Could Be Delayed For Months
With all eyes on Russia, a case alleging that money from a massive tax fraud there ended up in Manhattan real estate might be delayed at least six months. "Propose that things are not working smoothly."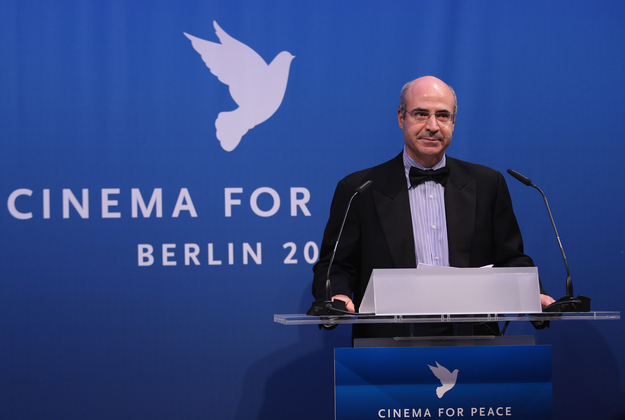 NEW YORK — A money laundering case spurred by fraud allegations uncovered by Russian lawyer Sergei Magnitsky — who later died in prison — may not come to trial for several more months thanks to expected delays in getting documents from Russia.
Last September, the New York federal prosecutor filed a civil forfeiture complaint looking to seize more than $20 million worth of New York real estate that allegedly had been purchased by a company called Prevezon Holdings with money from a massive Russian tax fraud. Preet Bharara, the U.S. Attorney for the Southern District of New York, said the forfeiture was "a significant step towards uncovering and unwinding a complex money laundering scheme arising from a notorious foreign fraud." The owner of Prevezon Holdings, Denis Katsyv, has denied any involvement in money laundering.
Much of the evidence in the complaint came from investigative work done by Sergei Magnitsky, a Russian lawyer who alleged in 2008 that Russian tax officials had stolen $230 million in tax dollars paid by Hermitage, run by the London-based William Browder and once the largest hedge fund active in Russia, using stolen corporate documents and seals to set up shell companies to claim a phony tax rebate. Magnitsky was then arrested in November and died in prison less than a year later.
Russia's human rights council concluded that he had been tortured to death, a claim that Russia's President Vladimir Putin denied. None of the Russian officials connected to the alleged theft or to Magnitsky's death were prosecuted. Browder was convicted by Russian authorities in absentia for tax evasion last year, while Magnitsky was convicted posthumously.
Following Magnitsky's death, Browder launched a campaign against the Russians who he said defrauded his company and killed Magnitksy, included convincing Congress to pass a law that specifically sanctioned 18 Russian officials, putting them on what's known as the "Magnitsky List."
The case against Prevezon filed in federal court has been moving forward for more than six months and likely will go on many more months, thanks to presiding judge Thomas Griesa delaying the trial date past the originally scheduled date of March 31.
"Issues are not so simple," Griesa said, adding that the government objection to the earlier trial was "well founded."
Prevezon's defense attorneys at BakerHostetler argued that the trial should go forward as scheduled and used the hearing to cast doubt on the government's case. They pointed to a deposition of Todd Hyman, the Department of Homeland Security agent who signed the original complaint.
The defense claimed that Hyman "admitted the government has no witnesses and no admissible documents to support the case." Prevezon's attorneys also said that the documents that the complaint did rely on, like bank statements, were "partial." The attorneys directly told the prosecutors, sitting only a few feet in front of them, that "there are currently no facts in your possession that show knowledge of a $230 million fraud."
In a motion filed last month, Prevezon's lawyers claimed that, "All that the government has alleged, and all it can demonstrate, is that the Moving Defendants made an innocent investment."
In order to explain the complicated path the money took to Prevezon from its investors in Russia through several banks in Russia and Moldova and then finally in Switzerland as alleged by prosecutors, its lawyers said that some Russian businessmen "are not wholly enthusiastic about their holdings being known in their home country."
Prosecutors asked to extend the trial date, citing the time it would take to formally request documents from Russia, Moldova, and Dubai, as well as the time it would take to translate "voluminous" documents in Russian and to locate expert witnesses.
And the current standoff between Russia and the European Union, and the United States over Ukraine is sure to make that process even more difficult.
Andrew Adams, one of the prosecutors, said "when things are going smoothly," document requests from Russia, which have to approved by the Justice Department in Washington, take six months. "Propose that things are not working smoothly," said Jack Moscow, one of the defense attorneys. "I think this is an attempt to stall the case."
"Set a trial date quickly," said Mark Cymrot, another BakerHostetler attorney. "We are six or seven months into this."
The man sitting to the left of Cymrot, John Moscow, turned out to be the next subject of a spirited back and forth between the attorneys.
The former New York County prosecutor had been retained by Browder in late 2008 and early 2009 to help investigate the money trail that Magnitksy was uncovering by subpoenaing banks. Christine Magdo, one of the federal prosecutors leading the case, wrote a letter to the court laying out a "prior client conflict by Mr. Moscow" and said that he had worked on the "very same subject that's before the court." Magdo did not make any motion to remove Moscow or Baker, but wrote the letter to "bring the matter to the court's attention."
Late last year, Browder had filed a grievance with the Southern District grievance committee saying that the "conflict of interest is obvious and indisputable." Browder told BuzzFeed today "it's the most spectacular conflict of interest there ever was."
Cymrot said in court that the work Moscow did for Browder and Hermitage was connected to his investigation of alleged tax fraud by Renaissance, a Russian investment bank, and that it only lasted for a few months in late 2008 and early 2009. Cymrot said Baker had "carefully reviewed" whether there was a conflict of interest and "we determined we have no conflict."
"We're going to present their bills, we're going to show in detail a vast role over a long period of time, we paid them $200,000 in fees to do all this stuff," Browder told BuzzFeed.
"The government is not requesting that court do anything," Judge Griesa told the lawyers near the end of the session, "and it would be inappropriate for time to take any action or express any view."
After more than an hour where the defense relentlessly attacked the government's case and the prosecution suggested a possible conflict of interest, nothing changed and the trial will still happen. Eventually.