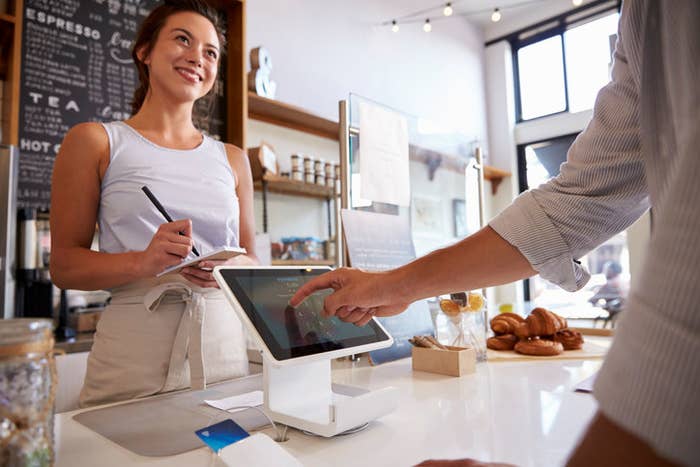 Newfangled online lenders have become a major source of financing for America's startup businesses, which create a massive share of new jobs but are sometimes deemed too risky for loans from big banks.

The Federal Reserve Bank of New York's recent report on startup companies, defined as companies less than five years old, found online lenders (such as OnDeck Capital) are providing loans that more traditional financial institutions would not. They do, however, tend to lend at high interest rates, which can burden companies if they don't boost their earnings enough using the proceeds from the loan.
"Young firms are such an important part of the macroeconomy — they're disproportionally responsible for net job creation and they infuse innovation in the economy," Claire Kramer Mills, assistant vice president and community affairs officer at the New York Fed, told BuzzFeed News. These small businesses, according to the report, account "for 34% of all US employer firms, for nearly all net new job creation and for almost 20% of gross job creation."
Yet because small companies can be larger credit risks, more than half of startup firms "reported difficulty with credit availability or accessing funds for expansion," the survey found, while only 39% of older firms did. More than two-thirds of startups who did get financing ended up getting less than they wanted, and it was typically for not having enough credit history.
Nontraditional lenders have stepped in to fill some of this gap. Startup businesses which were classified as being medium- or high-risk for loans "are much more likely to apply to online lenders than are low credit risk startup applicants" — about 40% did, compared to 11% of lower-risk startups. And while medium- and high-risk businesses said they had applied to online lenders at the same rate as to small banks, 45% said they got some loans from online lenders, compared to 26% from larger banks and 35% from small banks.
"Online credit use is more common among riskier firms," Kramer Mills said.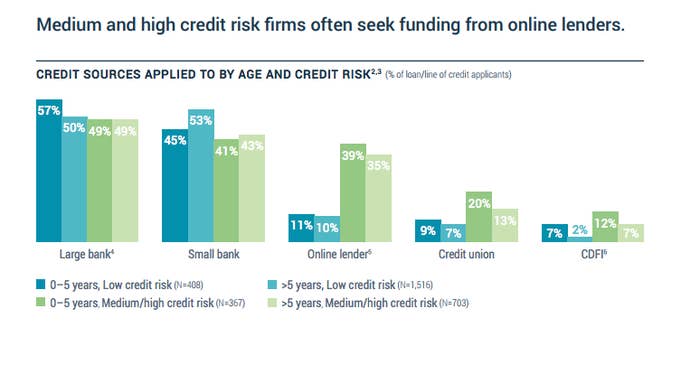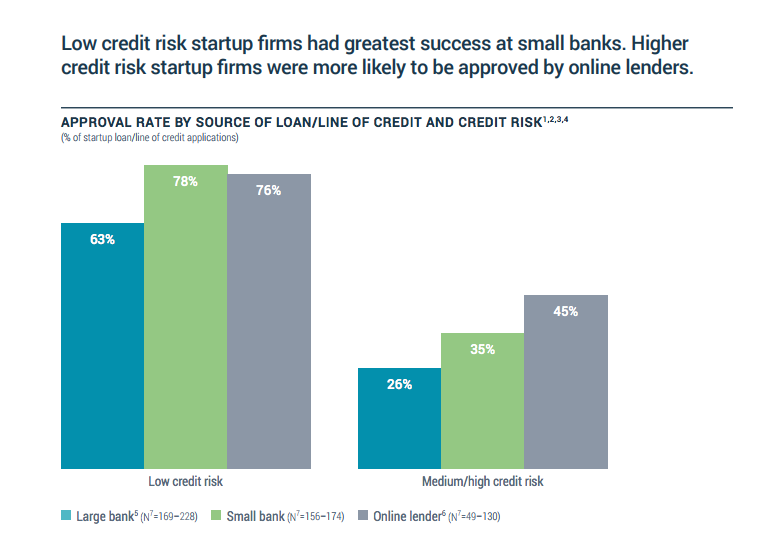 Some observers have blamed new post-crisis regulations for making it more difficult to lend to smaller or more risky businesses. While the total amount of business loans have rose steadily throughout the recovery and after new banking rules were implemented, anecdotally both bankers and small businessmen have said that smaller businesses have had more trouble getting loans from banks, especially smaller loans that may not be profitable enough for a JPMorgan Chase or Bank of America.

Meanwhile, online lenders that specialize in small business loans and do underwriting automatically have disbursed billions of dollars worth of credit every year. OnDeck Capital, a small business lender, has lent out over $7 billion since being founded in 2007 and over $1 billion in the first half of this year.
Yet these online lenders have fallen on harder times as the high costs of finding new borrowers and the inevitable defaults started to catch up. OnDeck's stock price is down almost 80% since its December 2014 initial public offering.