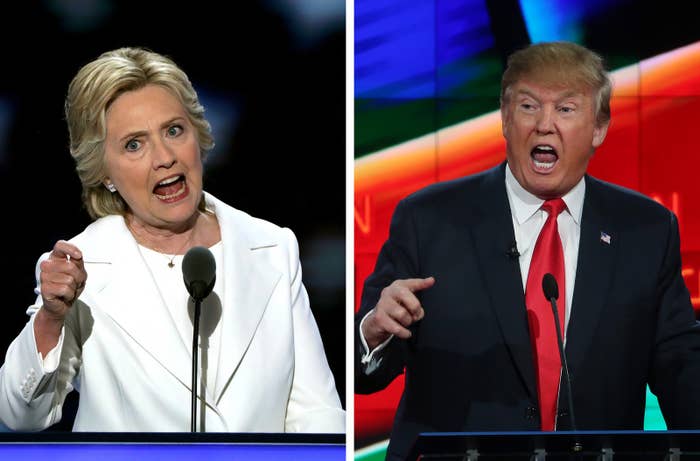 Earlier this month, Donald Trump said he'd pulled his money out of the stock market, warning of "very scary scenarios" ahead for investors. Those scenarios, according to many market watchers, include the possibility that Donald Trump could be elected president.
And that's a slim possibility, judging by the behavior of the markets. Investors seem to have all but written off the likelihood of a Trump presidency, pushing stocks to record highs as Trump takes his cash off the table.
Rising stock markets from August through October tend to be correlated with the incumbent president or party winning, according to data from Sam Stovall, a strategist at S&P Global Market Intelligence. For the stock market to suggest Trump is likely to win, the theory goes, it would need to be falling.
"The correlation is pretty high," Stovall said. "It all has to do with uncertainty, the market doesn't like not knowing or at least having a good guess about what's going to happen."
By that measure, the markets are basically getting ready for Hillary Clinton's inauguration day. Last Thursday, the three major U.S. stock indices — the S&P 500, the Dow Jones Industrial Average, and the Nasdaq Composite — all closed at record highs. It was the first time this century that all three hit the peak on the same day — the last such occurrence was on December 31, 1999.
For Stovall, if the market continues to rise through October, "that would imply to me they're not really expecting to change horses in mid stream."
Uncertainty about possible policy changes accompanies a close election, and with Trump promising sweeping actions on everything from trade to taxation and immigration, that uncertainty would typically weigh on markets. But it's largely absent, according to one expert in the field.
"Nobody really has any idea about his policies, including Trump himself I suspect," Stanford economist Nicholas Bloom told BuzzFeed News. "Trump has no prior policy experience, has no serious policy advisers and avoids discussing real policies in debates and speeches. So his policy positions could be anything and I doubt we or he will even know these until next year if he wins."
Bloom, along with colleagues, is the creator of an index that tries to measure how much uncertainty there is about economic policy. The index combines media coverage of uncertainty, how many parts of the federal tax code are due to expire, and how much economic forecasters disagree with each other.

The most complete version of the index has been muted in the past year — aside from a massive spike following the European Union referendum vote in the U.K. In that case, investors largely expected voters to choose to remain in the EU, and when the Leave vote won, there was a panic.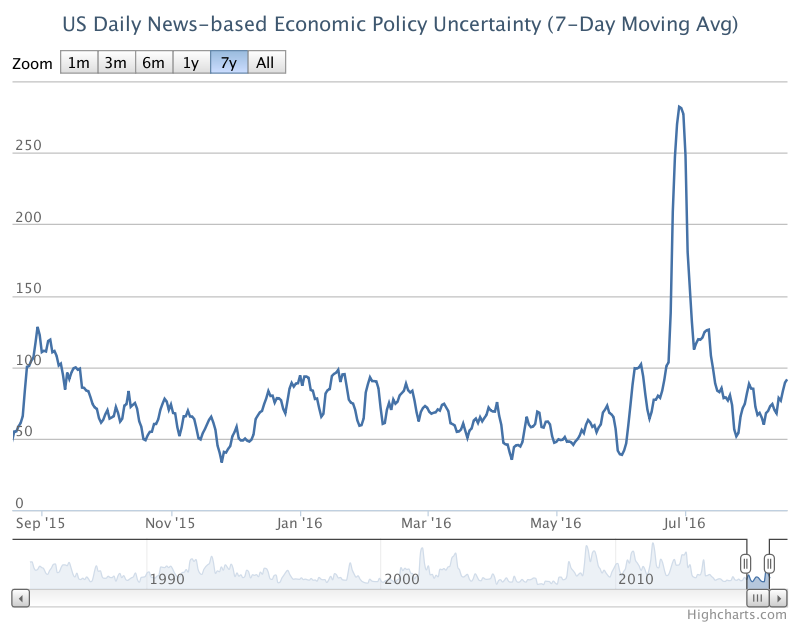 "A Trump victory would generate the kind of large uncertainty jump that is currently engulfing Britain, with a similar risk for the economy," Bloom said.
Instead markets are gently rising, and the VIX — nicknamed the "fear index," which measures volatility in the stock market — is near its all-time low. Whatever freaking out may look like, investors seem to be doing the opposite of that.

Anxiety would also show up in the U.S. government bond market, where foreign powers, led by China — Trump's core economic bogeyman — hold and trade trillions of dollars of American government debt. "Everything else equal," Citi analysts wrote in a note earlier this month, "a less friendly face externally from a deficit economy could raise risk premia on US assets, as could a rise in uncertainty more generally if Trump wins."
But since early May yields on U.S. treasury bills have fallen, meaning investors are buying up U.S. government debt, not selling it.
Even in overseas markets that should be particularly vulnerable to Trump-related tremors, things are fairly quiet: at the Republican National Convention on July 21, the Republican nominee questioned whether NATO should really step in defend its members in Eastern Europe. The Nasdaq OMX Baltic Index, which tracks the stocks of companies listed in Estonia, Latvia and Lithuania, has only fallen about 2% in the weeks since Trump's comments, and is still up about 12% since the beginning of the year.

Nomura analysts, in a view widely shared by mainstream economic analysts, said in a note that if Trump were to win, "in the short run, the huge uncertainty over the future direction of the world's largest economy would be a major blow to business confidence, not only in Asia but globally, and the ensuing financial market sell-off would feed negative second round wealth, confidence and credit effects."

But for many, the big lesson of 2016 is to be prepared for surprises. "The inability of expert political commentators accurately to predict many recent outcomes, most notably the UK 'Brexit' vote, means that investors need to take the possibility of a Trump Presidency seriously," wrote a team of Citi analysts.