Revenue At Student Debit Card Giant Higher One Suffers From Fewer Fees
The controversial company, which provides students with debit cards linked to financial aid, reported meager revenue growth in part because of changes to its fee structure forced by consumer advocate groups.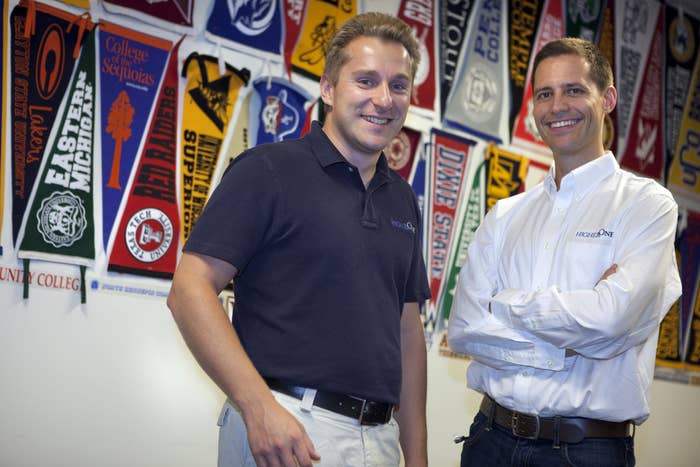 The bottom line at Higher One, a financial services company focused on collegians, is suffering as a result of changes to the fees it charges for its checking accounts.
The New Haven-based company on Thursday reported adjusted earnings of 4 cents per share for the second quarter on a $1.1 million increase in revenue from a year ago to $40 million. In addition to fee structure changes, Higher One's earnings were also hit by the acquisition of Sallie Mae's Campus Solutions business, which administers tuition payments and financial aid refunds. (The company said that business wouldn't start adding to earnings until next year.)
Revenue from checking accounts, which are largely debit cards linked to financial aid used to pay for non-tuition expenses, declined 14%, to $26 million from $30 million largely thanks to changes in fees Higher One made following widespread criticism from consumer activists and a settlement with the Federal Deposit Insurance Corporation. Higher One's chief financial officer, Christopher Wolf, said in a prepared statement during a call with analysts that the new fee structure "has not yielded the amount of revenue we expected when we initiated the changes over the past few quarters." The company also suspended guidance for future earnings and revenues, partially because of "uncertainty in our service fee revenue."
Higher One has been criticized for its debit card fees and practices by consumer advocates and lawmakers. In May of last year, the U.S. Public Interest Research Group issued a critical report called "The Campus Debit Card Trap" that described Higher One as the "biggest player" in the campus financial aid and debit card disbursement industry. About 1,600 colleges and universities use one or more Higher One service, and 65% of the company's revenue comes from account fees for student debit cards. That compares to just 19% of its revenue derived from colleges and universities using its analytics, billing, and payment processing services. Higher One has over 2.1 million student checking accounts, an increase of 269,000 from last year.
In August of last year, the Federal Deposit Insurance Corporation determined that Higher One charged students who had overdrawn their accounts with multiple fees and then, as the accounts remained overdrawn, would continue to charge fees as financial aid was deposited in the student accounts in violation of FDIC rules. Higher One paid $11 million in restitution and a $110,000 fine in a settlement with the FDIC.
After the FDIC settlement, Higher One announced that it would offer a new account, OneAccount Edge, that would charge a monthly fee of $4.95 and no fees for debit purchases, overdrafts, or inactivity. The changes, which started a year ago, also included adding a monthly fee for non-students, getting rid of insufficient fund feeds, and instituting a cap for ATM fees not related to withdrawals, such as making a transfer or balance checks. The company also said it would get rid of a fee on delinquent accounts, which would "further reduce account revenue for the remainder of the year."
While revenue from student accounts took a hit from the fee reductions, account usage actually went up, with OneAccounts growing 14% from a year ago. Revenue from interchange — fees that Higher One collects when debit cards are used — were up 7%. Wolf said that the company was "optimistic that we can continue to deepen our customer relationships going forward while offering more high-value services to a more engaged consumer base."
Higher One's basic account, the OneAccount, charges $2.50 for using non-Higher One ATMs and 50 cents for PIN-based debit transactions as opposed to transactions where you sign. While it has an insufficient fund fee of $29, Higher One does not allow overdrafts through ATM withdrawals or debit purchases.
Christopher Shutler, an analyst at William Blair, described the 50-cent PIN fee as an "outlier" on the earnings call. Miles Lasater, Higher One's president and chairman, pointed out that the Edge and Premier accounts don't charge the PIN fees and that the company "hasn't heard too much" about the fees. Mark Volchek, Higher One's CEO, said on the call that the data they have released so far "implies that interchange has become a larger portion than it was previously," meaning that Higher One is getting less money from charging fees and more from actual usage of the cards.