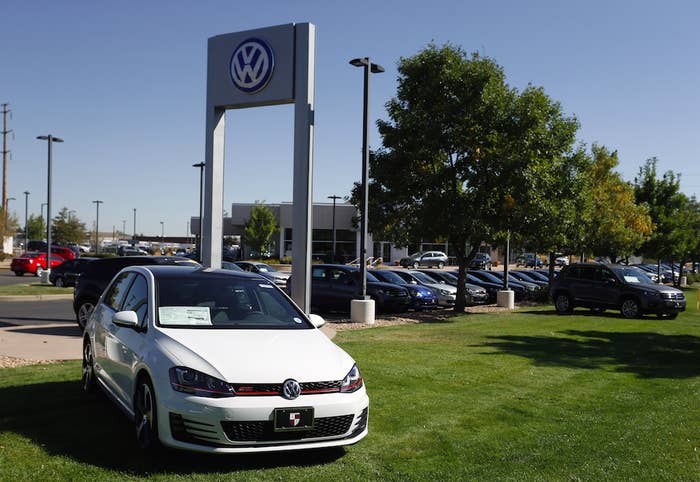 The resale value of Volkswagen's diesel cars has fallen 13% in the two weeks since news of the company's emissions scandal first broke, according to Kelley Blue Book, which publishes industry standard prices for used cars.

Kelley said the average sale price for a diesel-engined Volkswagen Jetta from the 2009-15 model year was $11,901 before news of the emissions coverup. That has fallen to $10,248, a 14% drop. For the same cars with a standard gasoline engine, the price fell 2.7%, from $9,573 to $9,354.
"Early indications from auctions are that dealers are more hesitant to buy the VW diesel units," Kelley Blue Book analyst Tim Fleming said. Fleming noted that while used car prices tend to fall around this time of year, "the large price drop on the VW diesels certainly stands out."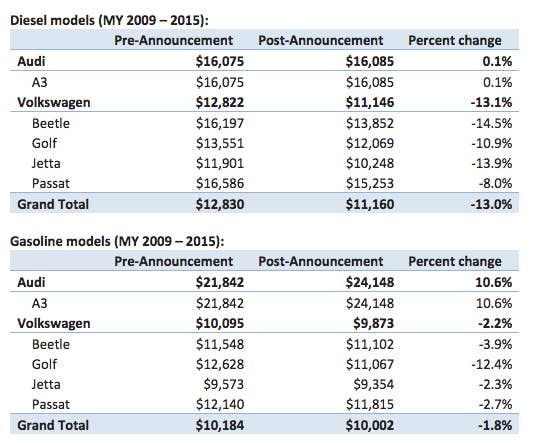 The larger declines for Volkswagen's diesels strike at what was once the cornerstone of Volkswagen's strategy to expand in the U.S.: selling diesels for a premium. "The price difference between the diesel and gas-powered VW model has fallen from around $2,700 to just $1,300," Fleming said.
Falling resale values could become central claim in class-action lawsuits, litigators told BuzzFeed News after the emission scandal broke. The law firms Keller Rohrback and Hagens Berman have already filed several suits against Volkswagen. In an October 1 complaint filed in federal court in Michigan, Keller Rohrback attorneys cited Kelley Blue Book data showing a 2013 Jetta dropping in value from $16,573 to $15,878 in a few days. "As Volkswagen well knew, its customers...highly valued that the vehicles they were purchasing or leasing were clean diesel cars, and they paid accordingly."
Hagens Berman, another major class action firm that filed an early suit against Volkswagen, filed a complaint on September 28 with litigation firm Quinn Emanuel in federal court in California, claiming that Volkswagen diesels "have sharply decreased in value and are presently unsalable...Each Class member therefore suffered a direct pecuniary loss in the form of the decreased value of their Affected Vehicle."
After the emission cheating was revealed, Kelley Blue Book analysts predicted large price falls in the days and weeks immediately following, but said recover over time.
"While early readings suggest that [diesel] vehicles are being affected by the news, it is possible that they could return to normal levels within a year," said Eric Ibara, who heads residual value consulting at Kelley Blue Book. "This will depend on how Volkswagen handles this crisis and what they announce the fix will be for the U.S. market."