Donald Trump has already Made America Great Again — at least according to the people whose optimism about the U.S. economy has skyrocketed following the election.
A range of metrics used to gauge how people feel about the economy have shown a marked upturn over the past month, and many of them began moving upward right after Trump's win over Hillary Clinton. It's not just surveys of regular American consumers: Stocks have risen to all-time highs and corporate CEOs (perhaps wanting to avoid a nasty tweet from the president-elect) have been praising Trump's plans to cut corporate taxes and deregulate broad swaths of the economy.
Gallup's Economic Confidence index swung to its highest level since January 2008 last week, and hit its highest three-day average in nine years earlier this month. "The positive shift in economic confidence is largely the result of Republicans' optimism after last month's presidential election," Gallup said Tuesday.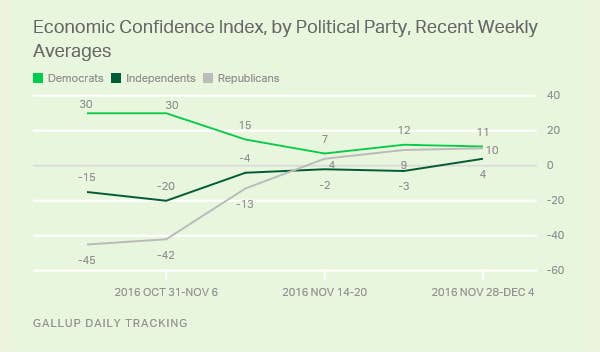 Using its own measure of sentiment, Gallup's numbers show Republicans went from feeling deeply pessimistic about the economy — a score of –42 — to a relatively rosy +10. Democrats feel worse today than they did prior to the election, but are overall still in positive territory, at around the same level as Republicans. Overall, 58% of Republicans in Gallup's survey last week said the economy was "getting better," compared to just 15% who said so before the election. "Rarely has Gallup found such a dramatic shift in Americans' economic confidence over the past nine years as it has in the past month," the polling group said.
"There's been a huge spike in all of the measures," Peter Atwater, the head of Financial Insyghts, told BuzzFeed News. "What's important in terms of the dramatic shift is to appreciate that for the average GOP voters, they had been feeling really blue for a really long time. So what you're seeing — and what's a better description than a surge in confidence — is immense relief."
Another widely cited measure of economic sentiment, an index compiled by the University of Michigan, is now close to its highest level in more than 10 years. "The surge was largely due to consumers' initial reactions to Trump's surprise victory," said Richard Curtin, the chief economist for the survey. "More consumers spontaneously mentioned the expected positive impact of new economic policies than ever before recorded in the long history of the surveys."

The University of Michigan Consumer Sentiment Index
Economic statistics present a more mixed picture. The economy is growing at an annualized rate of 3.2% — relatively good compared to the last year's 2.6% growth rate — and the unemployment rate is down to 4.6%. Wages have started to grow again.

But these headline numbers coincide with worrying longer-term trends. While the unemployment rate is low, the portion of the population working or looking for work has declined dramatically since the financial crisis. Many men have dropped out of the labor force because of chronic pain or disability.
But changing consumer sentiment has fed a mini stock market boom, with shares of the S&P 500 rising 5.5% and the Dow Jones Industrial Average close to reaching the long-mythical 20,000 mark. "People are presuming that this condition is going to last for a long time," Atwater said. One person who might be missing out from the rally is Donald Trump himself, who said over the summer that he had sold off all of his individual stockholdings.
Some corporate chiefs have theorized the election period was a downer for consumers, who spent more time stressing out over the news and less time shopping. The CEO of Barnes & Noble blamed the election for slower book sales, and Restoration Hardware said the election was partially responsible for "consumer softness."
Costco finance chief Richard Galanti said its own sales suffered during the peak of election madness. "The four weeks of November was choppy, frankly, particularly the week of the election," he said on a recent analyst call. "I think it was worse than a snowstorm in terms of nobody wanting to go out and buy stuff, and that's what I read about other retailers as well."
But now the election is over — and for some executives, Trump's victory is particularly good news if it means proposals like a corporate tax cut, a tax holiday for overseas profits brought back into the US, and reduced regulation actually happen. "We can get this GDP up to 4%, which is what the president-elect is talking about," Andrew Liveris, the chief executive officer of Dow Chemical, told CNBC, also saying that a 15% corporate tax rate, which Trump supports, would make the US more competitive.
"You're gonna cut taxes, which is great," Carl Icahn, the billionaire investor and Trump supporter said. "But I think the most important thing is ... to absolutely change these regulatory agencies."
Icahn is a relentless critic of the Environmental Protection Agency, and said Trump's pick to lead the regulator, Oklahoma Attorney General Scott Pruitt, would be the "perfect guy" for the job. Pruitt is an aggressive opponent of Obama's EPA, has sued over several of the agency's rules, is a big recipient of campaign funds from fossil fuel companies, and has disputed the scientific consensus on climate change.
Icahn's own investments show just how good the prospect of deregulation can be for business. CVR Energy, an oil refinery company that Icahn owns a majority stake in, has risen in value by more than 80% since the election.