Report Finds Young People Face Most Overdraft Fees
Overdraft and non-sufficient fund charges are by far the biggest checking account fee, making up more than half of the average monthly fees charged.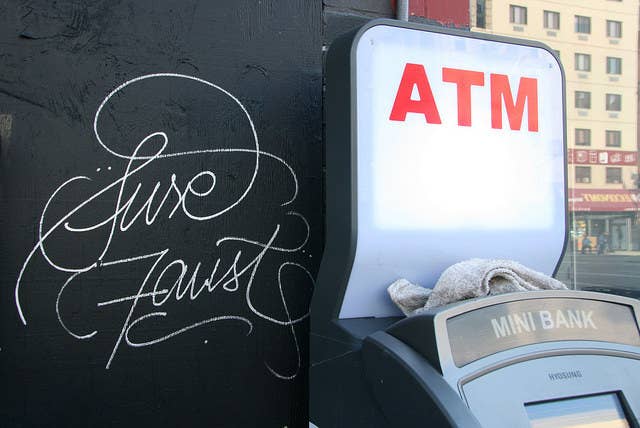 Overdraft fees for ATMs and debit cards make up more than one half of the total monthly checking account fees consumers face, according to a new analysis published by the Consumer Finance Protection Bureau.
The Bureau published research today showing that overdraft fees are a big revenue source for consumer banks, that young people pay them disproportionally, and that, since customers tend to return to positive balances quickly after going negative and incurring a fee, they function as very high-interest loans.
The Bureau looked at a sample of customers at large banks, about 2 million accounts, between January 2011 and June 2012. In those accounts, checking account fees averaged $9.87 a month, and $5.21 were for overdraft and non-sufficient funds fees. The next largest monthly fee, on average, was a $1.28-per-month. For accounts that had opted into overdraft protection for ATM and debit card transactions, the average overdraft fee was over $21.61.
Even among accounts that hadn't opted into overdraft protection, the average fee was $2.98, which can be incurred from overdrafted money transfers for bounced checks. In 2010, the CFPB mandated that customers be able to choose to have overdraft protection, instead of being automatically opted-in to the service.
"Despite recent regulatory and industry changes, overdrafts continue to impose heavy costs on consumers who have low account balances and no cushion for error," the CFPB's director Richard Corday said in a statement, adding, "Overdraft fees should not be 'gotchas' when people use their debit cards." The Bureau is considering new rules "to improve consumer awareness of overdraft costs and restrict how banks can debit transactions and impose fees," Bloomberg News quoted a senior official saying.
While overdraft and non-sufficient funds fees are high — they brought in some $32 billion in revenue for banks for banks in 2012, according the research firm Moebs — they are largely concentrated among a small portion of checking account holders. The CFPB said that the 8.3% of account holders who overdraft more than 10 times a year make up 73.7% of all overdraft fees. Meanwhile, 70% of account holders in the study did not overdraft at all. A study released last month by the Pew Charitable Trusts found that the median overcharge fee is $35. As banks have been squeezed by low interest rates, they have moved away from offering free checking accounts in order to bolster their revenues.
Overdraft fees are similarly concentrated among young people. Whereas 72.4% of checking account holders between 46 and 61 and 84.6% of checking account holders between and 62 have no overdrafts, the number was only 61.5% among 18 to 25 year olds. Among that group, 23.8% had three or more overdrafts. The group of 10.7% with ten or more made up 68.4% of the overdraft fees paid by young people.
Banks are also able to amp up fees depending on how long a customer has a negative balance in their account. Pew found that more than half of overdrafts cost customers between $30 and $99.99, despite the median fee being $35. That's because they pile up multiple fees for staying overdrafted.
The CFPB's study found that more than half of account holders who overdraft come back to positive within three days. "Some consumers are essentially paying $34 – which is the typical overdraft fee – to have the bank spot them less than $24 for just a few days," Cordray told reporters. "If a consumer were to get a loan on those terms, that would equate to an annual percentage rate of over 17,000 percent."
Susan Weinstock, who runs Pew's consumer banking programs, told reporters last month that the CFPB should improve disclosure of checking account fees, "The CFPB should ensure all overdraft options are laid out and consumers can make a clear choice."