The Redstone/Viacom Fight Has Escalated Into Elder Abuse Subtweets
The battle over 93-year old tycoon Sumner Redstone's media empire keeps getting uglier — and now, it has gone full subtweet.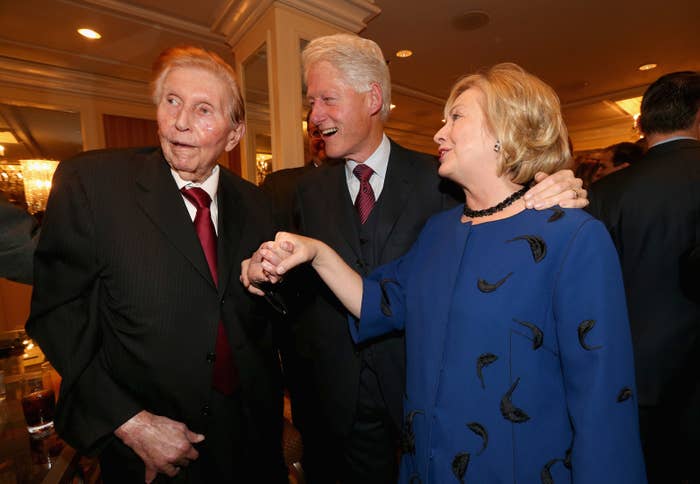 Did you think a fight involving an aging billionaire, his daughter, and the battle-hardened executives that run his media conglomerate wouldn't descend into barely-concealed subtweets alleging of elder abuse? You were wrong.
Carl Folta, the longtime PR chief of Viacom, the cable conglomerate that owns Nickelodeon, MTV, and Comedy Central, marked Elder Abuse Day this morning with this tweet.
Sumner Redstone, the 93-year old who controls Viacom and CBS, has recently made moves to oust Viacom's CEO, Phillippe Dauman.
Dauman, a long-time ally of the billionaire tycoon, has accused Redstone's daughter Shari — who is the vice chairman of both CBS and Viacom — of manipulating her elderly father to "illegally hijack her father's well-established estate plan."
As any Twitter users knows, the only adequate response to a subtweet is full nuclear war. On Thursday afternoon, news broke that an order from Redstone has ousted a number of Viacom board members, including the CEO.
The whole saga has turned messy, and is playing out in the courtroom. Redstone's lawyers have argued that the billionaire is mentally fine, just quite old. Redstone has long had difficulty speaking, and in a deposition in another lawsuit surrounding his mental competence, he "struggled to respond to questions with the help of an interpreter, who asked him repeatedly to slow down and speak louder," the Wall Street Journal reported.
Folta's tweet linked to a Vanity Fair story that suggess Shari Redstone was controlling access to her father and not letting longtime board members speak with him directly. The article quoted a letter to Viacom's lead independent director Frederic Salerno saying, "We want to understand what is happening with you."
In a response to Salerno, Redstone wrote "I do not trust you or the current board" to act in the best interests of Viacom, and that "I no longer trust Philippe or those who support him." Salerno said in a statement "We could clear a lot of this up if Sumner would share his thoughts with me face to face."
An unnamed source told Vanity Fair that the situation amounts to "a coup d'état without a doubt."

Shari Redstone's spokesperson, Nancy Sterling, did not immediately respond to a request for comment from BuzzFeed News. She told Vanity Fair it is "absurd for anyone to accuse Shari of manipulating her father. Sumner makes his own decisions."