Preet Bharara Has Figured Out How To Charge A Big Bank With A Crime
The aggressive Manhattan U.S. attorney is close to pursuing guilty pleas from two banks. His trick: an unusual two-step with regulators.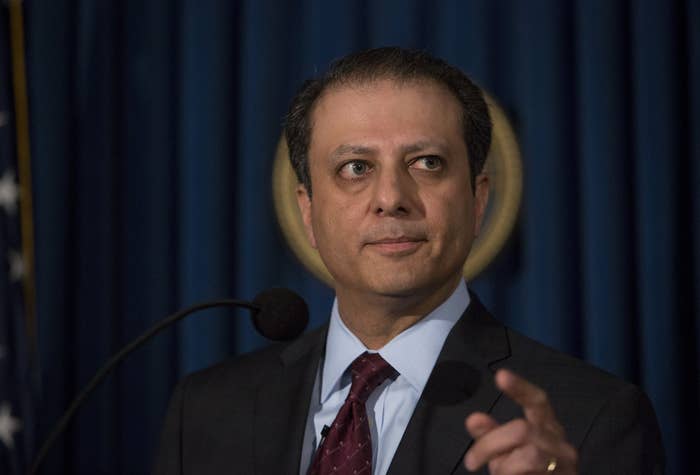 Preet Bharara, the Manhattan U.S. attorney, appears to have found a way around one of the major obstacles to indicting big banks, sharpening a new prosecutorial tool and offering satisfaction to critics who say the Justice Department has been soft on major financial institutions since the 2008 financial crisis.
The basic obstacle to charging a bank with a crime is this: It's hard to indict a bank without killing it. In particular, a criminal indictment could easily persuade the bank's regulators, at the state or national level, to pull its banking charter, effectively shutting the institution down and turning a guilty plea to specific criminal counts into a death penalty.
And the Justice Department has, since it indicted and destroyed the accounting firm Arthur Andersen in the 2002 Enron case, had a policy of considering the collateral consequences — lost jobs in innocent business units, economic ripples — of indicting a corporation. That policy has allowed bank lawyers to stare down prosecutors, and produced criticism of the Justice Department that they've effectively allowed banks to become "too big to jail."
But Bharara, who has become the face of a widespread crackdown on insider trading, appears to have solved that prosecutorial dilemma. The New York Times reported Tuesday that his Southern District is nearing bringing criminal charges against two banks that "could produce the first guilty plea from a major bank in more than two decades."
The Times report suggests that Bharara's strategy has been to negotiate in advance with regulators, and to take the risk — and threat — of a pulled charter off the table.
It's a strategy he's attempted in the past: Bharara reportedly met with Thomas Curry, the head of the Office of the Comptroller of the Currency and JPMorgan's national bank regulator, "to discuss the potential fallout from criminal charges" but was unable to win assurances that the OCC wouldn't pull JPMorgan's charter following a guilty plea. (It's widely thought that banks will plead guilty to criminal charges if they're brought because of the fear that lenders and depositors will abandon a bank that's been indicted, driving the firm into failure. )
But Bharara's new targets are reportedly foreign banks operating in the United States, Credit Suisse, a Swiss bank, and BNP Paribas, a French bank, which have different regulators than U.S.-based banks, giving Bharara the chance to make his case anew for cooperation. (Neither bank has been formally accused of or charged with a crime.)
Prosecutors are investigating BNP Paribas for processing money transfers to countries under U.S. sanctions, like Sudan and Iran, while Credit Suisse is being investigated for aiding Americans in setting up tax shelters that may have run afoul of tax evasion laws.
The Times reported that the Southern District prosecutors and their counterparts in Washington have held similar meetings with regulators that could determine the fate of BNP Paribas following a guilty plea. Bharara, the head of the Justice Department's criminal division David O'Neil, and Manhattan district attorney Cyrus Vance met with the Federal Reserve Bank of New York and Ben Lawsky, New York's financial and insurance regulator. The law enforcement officials left the meeting "largely reassured," the Times said.
The cooperation of Lawsky, who served as an assistant U.S. Attorney in Manhattan prosecuting organized crime cases alongside Bharara earlier in both men's careers, is key.
The New York official has been aggressive in pursuing banks for violating sanctions laws and has recently emphasized the need for going after individuals as opposed to corporations.
Early in his tenure at the head of New York's Department of Financial Services, Lawsky threatened to pull the charter of another foreign bank — Standard Chartered — for violating sanctions rules and eventually settled for a $340 million fine. The Times said that Lawsky "planned to impose steep penalties against BNP and its employees but would not revoke the bank's license" and that the New York Fed made "similar assurances."
All the while, regulators do not appear to have been completely defanged. Lawsky will reportedly consider "temporarily suspending the bank's ability to transfer money through New York branches on behalf of foreign clients."
The criminal division of the Justice Department "has held discussions with the New York Fed about securing a guilty plea" from Credit Suisse for helping American citizens evade taxes.
In a speech earlier this year at a financial industry trade conference, Bharara said, "After Arthur Andersen, the pendulum has swung too far and needs to swing back a bit. And so you can expect that before too long a significant financial institution will be charged with a felony or be made to plead guilty to a felony, where the conduct warrants it."