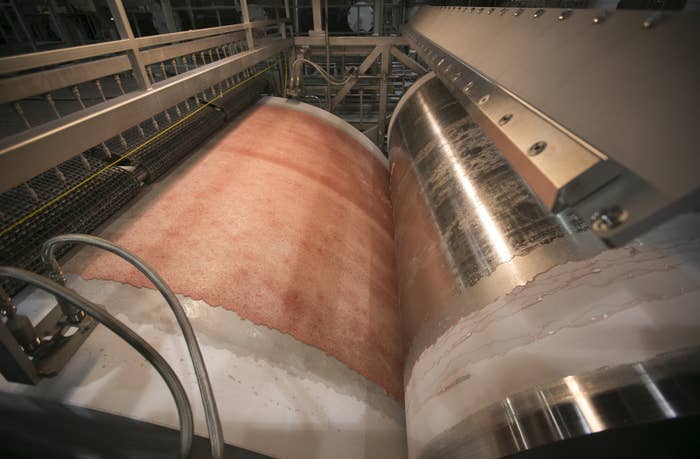 A South Dakota jury will begin hearing one of the largest lawsuits ever brought against a US news outlet this week, with ABC News being targeted for $1.9 billion in damages by a beef producer whose product — known officially as lean finely textured beef — was memorably described as "pink slime" in multiple news reports.
ABC's 2012 reporting on Beef Products Inc. included claims from a whistleblower that 70% of ground beef available in supermarkets contained the now-famous "pink slime," which the network described as "beef trimming once only used in dog food and cooking oil, now sprayed with ammonia to make them safe to eat and then added to most ground beef as a cheaper filling."
South Dakota-based Beef Products Inc. faced a national backlash after the reports aired. Schools and grocery stores across the country stopped buying ground beef with the additive; the company said it had to close down three processing plants and lay off 700 workers due to the outcry.
Another food company, AFA Foods Inc, filed for bankruptcy in April, 2012, saying the uproar over "pink slime" had killed consumer demand for its ground beef.
Later in 2012, Beef Products Inc. sued ABC News for defamation and disparagement, claiming $1.2 billion in damages — a figure since increased to $1.9 billion. Thanks to a law against spreading false information about food products in heavily agricultural South Dakota, the damages could be tripled if ABC is found guilty, putting it on the hook for almost $6 billion.

The potential impact of the suit is so serious that ABC's parent company Disney disclosed it in a regulatory filing. "The Company is not able to predict the ultimate outcome of this matter, nor can it estimate the range of possible loss," Disney said in the filing.
The term "pink slime" was popularized by celebrity chef Jamie Oliver, who ran a segment on the product in a 2011 episode of his Food Revolution TV show. In February, 2012, more than a month before ABC aired its reports on Beef Products Inc., McDonald's announced it would stop using the product.
ABC and its representatives have said for years that they expect to be vindicated by the courts and that they had not acted with "actual malice" towards the company — a key requirement for businesses and public figures seeking to prove libel and defamation claims.