PayPal Surpasses Former Parent eBay In First Day Of Trading
At $49 billion, the California-based payments company has a richer valuation than its former parent, eBay.
More than a decade after being acquired by eBay for $1.5 billion in 2002, PayPal returned to the Nasdaq today as an independent — and way more valuable — company.
The San Jose–based company stated trading under the ticker PYPL Monday morning, the same ticker it used before eBay acquired it.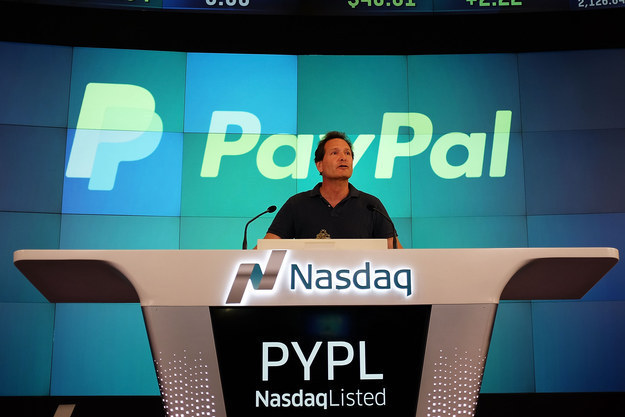 At the end of its first day of trading, the stock was worth $40.48 a share, up over 5%.
PayPal primarily makes money from transaction fees businesses pay on sales made using its service. It now has 169 million active accounts, up 11% year on year.
Unlike eBay's core business (largely sales through ebay.com), PayPal has been expanding quickly -- it handled $66 billlion in transactions in its most recent quarter, up 20% from a year ago.
And PayPal's payments revenue is rising at a similiar clip.
eBay, on the other hand, has seen its business stagnate.
eBay's "marketplaces revenue," or revenue from transaction fees, declined 3% last quarter. The company has a value of $34.7 billion, after its stock went up today, versus PayPal's $49 billion.
Unlike some spun-off companies, PayPal is equipped with a hefty war chest to pursue acquistions and investments — some $6 billion in cash. It also has a five-year operating agreement with eBay, giving it a large baseline business.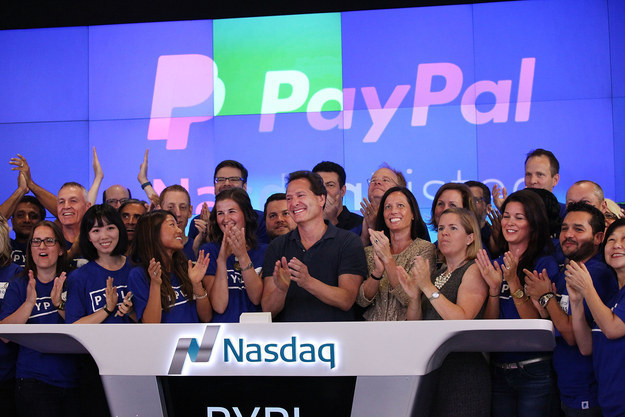 And PayPal already used some of that cash when it agreed to buy online remittance company Xoom for about $900 million. One reason why analysts and investors are so optimistic about PayPal's future is the success it's already had in acquiring companies, notably Braintree, which does online payments for businesses and includes Venmo, the peer-to-peer payment service that processed some $1.6 billion in payments in the past three months.
Robert Peck, an analyst at SunTrust Robinson, said that PayPal could also easily raise $5 billion in debt to finance acquisitions and that it already has "a strong recent track record of M&A." The company will also be able to sign up new partners to use its payment service, which it wasn't able to do when it was part of eBay.