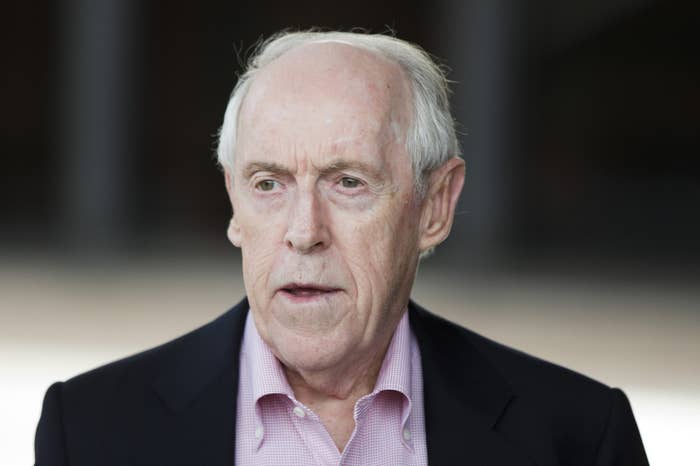 A pioneer of the payday lending business is facing federal racketeering charges, with prosecutors in Pennsylvania accusing him and others of crimes including mail fraud, wire fraud and money laundering.
The charges against Charles Hallinan, 75, who Bloomberg once called the "Patriarch of Payday Loans," Hallinan, include two counts of violating the Racketeer Influenced and Corrupt Organizations Act, statute generally used to go after organized crime. Prosecutors allege that "hundreds of thousands" of loans issued by Hallinan's companies exceeded interest rate caps, leading "hundreds of millions of dollars" in ill-gotten revenues.
From 2008 to 2013, the indictment claims, Hallinan's companies collected $688 million from their loans and he personally "netted tens of millions of dollars in profits." Hallinan has been in the payday lending business for almost 20 years, transitioning from using telemarketing to offer loans in states that had low interest rate caps to using the internet and Indian tribes.
The unsealed indictment provides a guide to the complex web of businesses operated by Hallinan, including 17 that originated or serviced the payday loans, six that funded them, and another company that generated leads for new customers. The companies also had their own credit bureau that prosecutors say Hallinan owned a third of.
Hallinan could face 12 years or more in prison if convicted, prosecutors said, while the other two defendants face at least eight years. A former partner of his, Adrian Rubin, was charged by federal prosecutors in June with conspiracy to violate RICO, along with other conspiracy and mail fraud counts. Prosecutors also accused Hallinan and Neff of assisting Rubin's evasion of interest rate caps.
The way Hallinan got around Pennsylvania and other state's rules capping interest rates, prosecutors said, was by working with Indian tribes, who could claim sovereign immunity when states tried to enforce lending laws. These "rent-a-tribe" arrangements have long got the attention of state prosecutors and regulators seeking to enforce lending laws.

Hallinan's attorney Michael Rosensaft declined to comment on the indictment.
Prosecutors said that Hallinan's lending companies would charge "$30 for every $100 they borrowed," adding up to an annual rate of over 700%. The highest annual rate legal in Pennsylvania for a small personal loan is 24%, and that's only if a lender is licensed by state banking regulators.
While federal prosecutors cannot charge Hallinan or other payday lenders for violating state laws, they were able to use federal organized crime laws to claim the "enterprise" Hallinan operated was based around the collection of debt that was unlawfully issued.