The Company That Makes Candy Crush Saga Is Being Bought For $5.9 Billion
British game studio King Digital, best known for Candy Crush, will be acquired by U.S. game-maker Activision Blizzard.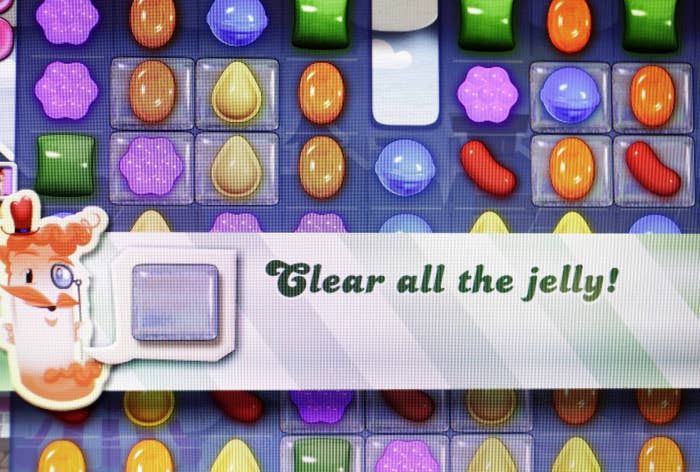 World of Warcraft maker Activision Blizzard is buying British game-maker King Digital, best known as the maker of Candy Crush Saga, the company said.
Activision said the deal values King at $5.9 billion, more than $1 billion higher than King's current market value. But it's still lower than King's valuation when it went public last March: Its IPO price of $22.50 valued the company at over $7 billion, but shares dropped to $19 on its first day of trading and the stock has never risen above $20 since last summer. King shares finished trading Monday at $15.54.
Investors have long been concerned that King is a one-hit wonder, with revenues too reliant on Candy Crush even as the company released a flurry of new games.
Activision's hit game franchises like Call of Duty, Diablo, and World of Warcraft are still primarily played on PCs and gaming consoles, and the company is still searching for a smash hit mobile game. Buying King sets up the company for "growth across platforms, audiences, genres, and business models," the company said in a statement.
"The combined revenues and profits solidify our position as the largest, most profitable standalone company in interactive entertainment," Activision Blizzard chief executive officer Bobby Kotick said in a statement.
The high price shows just how highly valued even a declining mobile franchise can be to a game-maker that's been caught behind in the great transition and expansion of the gaming industry due to the proliferation of smaller screens.
King is fetching a richer price than other media or gaming companies whose value is driven entirely or mostly by one standout product: Disney bought Lucasfilm for $4 billion in 2012, while Microsoft bought Mojang, the company behind Minecraft, for $2.5 billion last year, and Amazon bought the livestreaming service Twitch, which is very popular among gamers, for just over $1 billion.
While King's user count — some 474 million monthly active users — would be the envy of nearly any tech or media company, that number is in decline, having shrunk by more than 25 million in about three months. And King Digital's revenue and profit have also been declining, which is not common for a young, publicly listed tech company. Another online gaming company, Zynga, has also recently floundered in the public markets.
King said in August that its decline in revenue was "primarily due to lower gross bookings from Candy Crush Saga and our other more mature games." In its most recent quarter, some $205 million of its $529 million in "gross bookings" — an alternative revenue measurement — came from Candy Crush Saga 2 alone.

"Since 2003, we have built one of the largest player networks on mobile and Facebook, with 474 million monthly active users in the third quarter 2015, and our talented team has created some of the most successful mobile game franchises," King chief executive Riccardo Zacconi said in a statement.