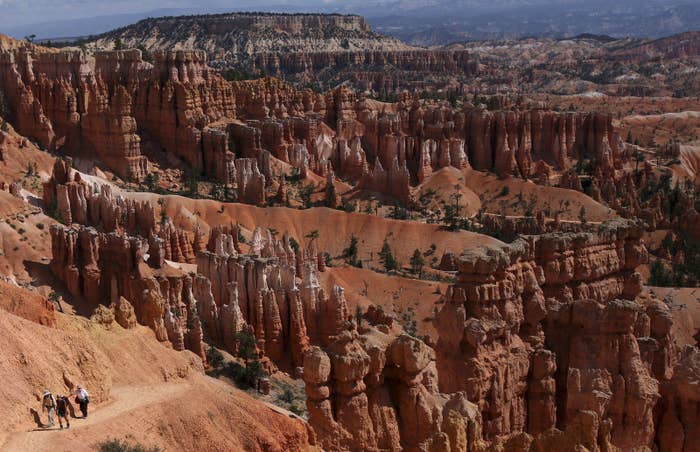 Overstock is best known for selling discount merchandise online, but the company has another trick up its sleeve: It has hoarded food, cash, and digital currencies in preparation for a disaster scenario that could cripple lesser online retailers.
"I want a system that can survive a three-month freeze," CEO Patrick Byrne told BuzzFeed News. "If the whole thing collapses I want our system to continue paying people, we want to be able to survive a shutdown of the banking system."
The Utah-based company has made headlines in the past for its drawn out fight with hedge funds it accused of manipulating the company's stock, and its CEO's interest in digital currencies. Byrne said the company maintains a 30-day supply of food, and has a distribution system to pay and feed employees in case the banking and payments systems collapse.
"In the 1930s there was a two-week freeze on the banking system; in 2008 we came perilously close to banks not knowing who could accept counterparty risk," Byrne said. "I think we're living in the final days of the theory that the Keynesian magic money tree can deliver actual wealth and growth."
In a call with anlaysts in early 2013, Byrne said the company is "determined to make Overstock robust in the face of that fragility and that includes owning some precious metals and maybe some Bitcoin."
Hoarding precious metals can come with risks of its own. The company said in a recent regulatory filing that the value of its metals has been hit by the global decline in commodities prices — they've gone down to $10.2 million from $10.9 million at the end of last year.
"We're not rubbing our hands together gleefully waiting for it to happen," Byrne said. "We think of it as an insurance company with a 5% chance of paying off."
While the precious metal store — $6 million of gold and $4.3 million of silver — has been noted in financial disclosures, the uncommon risk mitigation measure got renewed attention when the company's former President Jonathan Johnson, who is running for governor of Utah, mentioned it in a speech to the United Precious Metals Association earlier this month. "I don't know if it will be two days or two weeks or two months. But we have $10 million in gold and silver in denominations small enough ... for payroll," Johnson said.

The hoarding of coins and food may seem inconsistent with the company's investment in financial instruments based on digital currency, but both come from Byrne's doubts about the current way the world is run. "In a deep sense, I do not trust the central banks and I don't trust major institutions."
When asked exactly where the gold was — the company says it's in an "off-site secure facility" — Byrne told BuzzFeed News, "It's in a safe space in Utah. Utah has a lot of safe places."