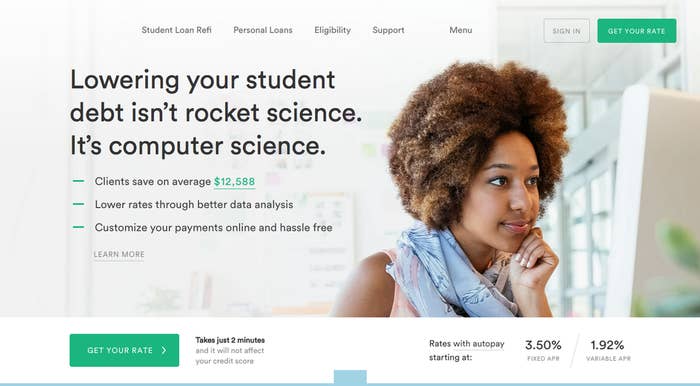 Louis Beryl wants to create America's next big consumer finance company, and he wants to do it by, among other things, refinancing some of the $1.2 trillion in outstanding student debt.
The 34 year old Beryl is the cofounder of the online consumer finance company Earnest, and himself carries a triple figure debt load from his time at Harvard Business School and Harvard's Kennedy School of Government, which he enrolled in after leaving Lehman Brothers in 2008, where he traded financial products tied to energy.
Earnest, which announced today that it had raised $17 million from investors lead by Maveron, the investment firm founded by Howard Schultz, is plunging into the student-debt refinancing market. The company raised $15 million in funding last spring.
Much like it does already with personal loans, Earnest looks at a wide range of data including income, employment history, asset accounts, and other debts in order to price loans. Its personal loan rates are relatively low, from 4.25% to 9.25% for loans up to $30,000, while its student loan refinancing rates are even lower, 1.92% to 7.5%.
Beryl says that the reason they are able to make such cheap loans is because they have software do the underwriting, along with no traditional bank costs, like scores of loan officers, brick-and-mortar locations, or sponsorship of sports stadiums.
What will attract borrowers to Earnest, Beryl said, isn't just the low rates, but the service. Many student lenders pass on loans to investors and then they are collected and serviced by third parties. Earnest, however, keeps servicing in house and offers a variety of features that let borrowers adjust their loans by paying early, extending the term, skipping a payment, delaying or increasing the frequency of payments, with the cost or benefit of more or less interest payment easily displayed online.
"One of the things that gives us our top customer rating and really cheap customer acquisition costs is we have a ton of organic clients," Beryl said in an interview with BuzzFeed News. "We view it as we don't originate loans, we originate client relationships."
The other way the company keeps costs down is by catering to borrowers who are already in good financial shape. "The idea behind it is that we lend to financially responsible people, we do very very thorough underwriting, looking at a lot of data on any individual," Beryl said. "We still have zero loans in default, we don't have a single loan in delinquency."
Earnest is just one of many quickly growing companies from outside the traditional banking system that are offering personal loans directly to consumers. It won't disclose how many loans outstanding it has, but Beryl said it was projecting "several hundred millions of dollars" worth of loans in 2015. Lending Club, which went public last year, has issued over $6 billion worth of loans.
One thing constraining Earnest's size is its funding. Traditional banks fund their loans through a combination of selling stock and borrowing money through products like CDs. Other online lenders sell loans to investors, while Earnest funds itself through credit facilities and raising equity from venture capitalists.
Beryl said that as its balance sheet expands, it will pursue securitizing loans (packaging them into bonds for investors), but will keep servicing the loans in-house. "Let's just say that if we do billions of dollars of loans, we're going to have to figure out some sort of securitization for that to make sense," Beryl said.
Right now, about a fifth of its 35 employees are in customer service, but as the company's balance sheet expands, the half of the company now that's devoted to technology will grow much slower (you don't need that much more software to underwrite vastly more loans), while the proportion of the company that does customer service will grow. "We can't hire fast enough," Beryl said, "We're going to expand into all areas of consumer finance."
An example of how a borrower can change her payment.