One Of The Financial Industry's Harshest Critics Joins Board Of Spain's Biggest Bank
Sheila Bair, the former FDIC chairman and a fierce critic of the financial industry and its regulators, has joined the board of Santander as an independent director. She said the board seat "will provide yet another avenue for continuing my commitment to reforming the global financial system."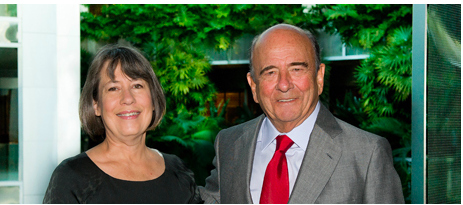 Sheila Bair, who was FDIC chairman from 2006 and 2011 and often butted heads with other financial regulators and the Obama administration as a result of her advocacy for more strict treatment of troubled megabanks, has joined Spain's biggest bank, Banco Santander, as an independent director.
In a statement, the bank said that Bair "will make a significant contribution, due to her international experience and her knowledge of the U.S financial market." She replaces British businessman Lord Burns on the bank's board, and her appointment would have to be approved by the bank's shareholders.
Santander has a presence in 10 countries, including the U.S., over 14,000 branches, and assets of $1.78 trillion.
Santander is growing its footprint in the U.S. It recently took its auto-lending unit, Santander Consumer, public and made $1 billion by selling 4% of its stake to investors and still maintains 61% ownership of the unit. It's also making a big retail push. It acquired Sovereign Bank in 2009, with over 700 branches mainly in the northeast and rebranded it as Santander Bank in October and is insured and regulated by the FDIC.
Since Bair left the FDIC, she has criticized regulators for working for the companies they regulate. She even proposed a "lifetime ban on regulators working for financial institutions they have regulated." She told the New York Times that a ban "would change the regulatory mind-set."
Bair also serves as the chair of the Systemic Risk Council, a group of former regulators and legal experts that advocates for stricter financial regulation. Even with her new appointment, she will continue to serve in this role.
In a statement, Bair said that she was "pleased to be appointed as an independent director to the board" and that her role would be to "identify risks and strengthen the group's operations."
Financial reform advocates on the whole don't seem that concerned about Bair's move. Michael Smallberg, who works at the Project on Government Oversight and authored a report on former Securities and Exchange Commission employees lobbying their former colleagues on behalf of the financial industry, told BuzzFeed, "We're generally wary of big banks deploying former regulators to weaken government regulations or enforcement actions. I don't worry as much about someone who serves as an independent director and isn't trying to shape government policies on the bank's behalf."
With Bair at Santander, former heads of four federal financial regulators, FDIC; Office of the Comptroller of the Currency with regulates national banks; the Securities and Exchange Commission, and the Commodities Future Trading Commission work for the financial industry in some respect.
Eugene Ludwig, who was head of the OCC from 1993 to 1998, founded Promontoy Financial Group, a consulting company that works with financial institutions on regulatory issues. Mary Schapiro, who ran the SEC from 2009 to 2012, is also at Promontory, while Walter Lukken, who was acting chairman of the CFTC from 2007 to 2009, is now president and CEO of the Futures Industry Association, the trade group for the futures industry, which Lukken regulated at the CFTC. "It's unusual for someone at Bair's level not to cash in," said William Black, a former bank regulator who is now a law professor at the University of Missouri-Kansas City.
"I have to admit that when I first heard she went to Santander, I said, 'Oh no, don't do it,'" Bartlett Naylor of Public Citizen, a group that advocates for stricter rules on Wall Street, told BuzzFeed.
Naylor, however, said he was reassured by her role as an independent director on Santander's board: "She's not the employee of management, she's the overseer of management; the revolving door is if she became a paid lobbyist, a paid ambassador in seeking permissions and exemptions, and that's not my understanding of the role."
This isn't the first time Bair has interacted with Santander or its executive chairman, Emilio Botín. In her memoir Bull by the Horns, Bair wrote that in 2010 she had asked Botín to bid for a failed Puerto Rican bank. Santander was the only one of five bidders that didn't already have a banking interest in Puerto Rico, and Bair wrote that she asked Botín to bid to keep the other banks honest and "achieve better pricing" for the FDIC in resolving the bank.
Botín "personally led the charge to appoint Ms. Bair," the Wall Street Journal reported. While Santander would not disclose Bair's compensation, Burns was paid €106,000, about $145,000, in 2012 for his service on the board, according to data compiled by Bloomberg.
She also praised Santander's management structure, with operations in each country being run as separate legal entities in each country; she wrote that this structure "has not hurt their profitably and makes them much more resolvable."
"I hope that my service on the Santander board will provide yet another avenue for continuing my commitment to reforming the global financial system and contributing to a safer, more responsible, and customer oriented banking system," Bair said in a statement.