This Iconic American Image Is Now Owned By China
Visual China Group has purchased the image licensing company Corbis, which owns the rights to some of history's best-known images.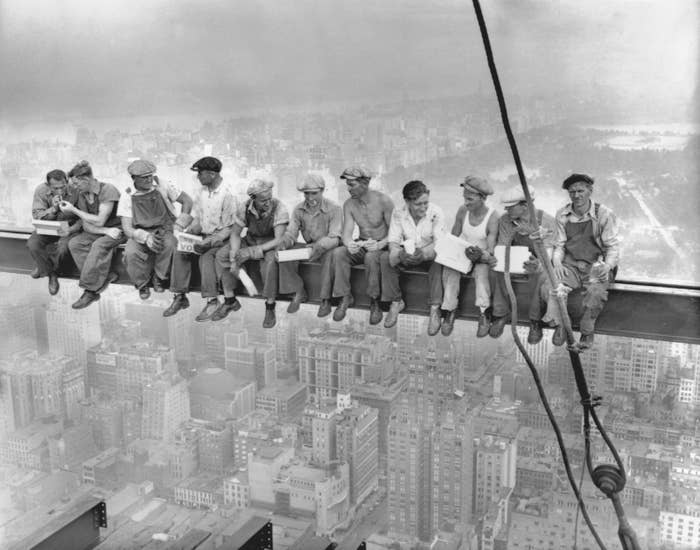 New York Construction Workers Lunching on a Crossbeam is one of the most enduring images of American industry. Now, perhaps fittingly, it has followed in the footsteps of so much of the country's industrial capacity and headed to China.

Rights to the picture are owned by image licensing business Corbis Images, which has been acquired by Visual China Group, the companies announced today. Corbis was founded by philanthropist and former Microsoft chief Bill Gates in 1989.
Corbis Images includes the Bettmann and Sygma archives, which hold more than 50 million images between them, including a "significant historical image collection" and "images covering Europe's most important historical events," Getty Images said in a statement. Getty will now be distributing the Corbis images through a partnership with Visual China Group.
The Bettman images are stored in a former limestone mine in Western Pennsylvania at subzero temperatures, according to the company.
One of those images is New York Construction Workers Lunching on a Crossbeam, the 1932 picture of workers enjoying a meal 800 feet above Midtown Manhattan during their work on what would become the RCA building in Rockefeller Center.

"There's also something about the values and contradictions of the American '30s in the image, that these are workers during the Clutch Plague, that they are building, not stopping," Corbis's Director of Historical and Fine Art images said in a 2012 interview.
"Corbis is a world-leading and widely esteemed brand in the image industry, and we are thrilled to add this treasure-house of valuable image assets to our premium brand portfolios," China Visual Group CEO Amy Jun Liang said in a statement. "The transaction strengthens our dominant position in China's image industry, enhances our core competence in the global high-end image market, and marks a significant milestone on our journey of globalization."

The Corbis parent company will hold on to its Branded Entertainment Network and Corbis Entertainment, which will be rebranded, the companies said. BEN works on product placement for brands. "The sale of Corbis Images accelerates the company's transformation into an entertainment advertising business with a particular focus on product integration," the statement said.
Visual China Group, a large Chinese image licensing company, is the latest Chinese company to snap up an American media company. Dalian Wanda, a real estate and media conglomerate, acquired the Jurassic World film studio Legendary Entertainment for $3.5 billion earlier this month, while the Chinese tech company Beijing Kunlun Tech bought a majority stake in the gay hookup app Grindr.