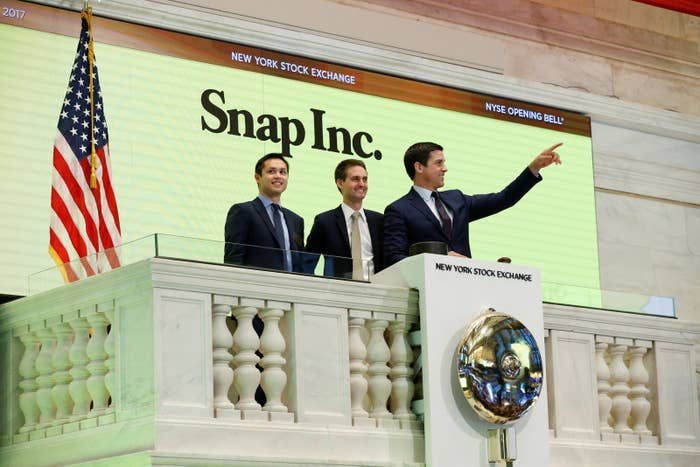 Shares of Snap, the parent company of Snapchat, fell over 15% on Tuesday after the company reported disappointing earnings and user growth in the third quarter.
The company's revenue of $208 million, while a 62% jump from the third quarter of 2016, was well short of the $235.5 million analysts had expected. The company's number of average daily users grew only 17% to 178 million, which was below the 180.5 million figure that analysts polled by Bloomberg had predicted.
It wasn't just the user and financial metrics that were disappointing: The earnings report confirmed that Snap's video-recording glasses, called Spectacles, were something of a flop. The company took a $40 million charge from "excess inventory reserves and inventory purchase commitment cancellation charges." In plain English, fewer people bought them than expected.
Snap reported a larger net loss than it did a year ago, losing $443 million, compared with $124 million in its previous third quarter. But compared to its most recent quarter, Snap's loss isn't really growing much: it lost around $443 million in the second quarter.
The poor earnings report is another signpost on the rough road the company has walked since going public in March. Snap has struggled to grow as quickly as it had hoped and to compete against Instagram's very similar Stories product. Stories, as well as WhatsApp Status, hit the 300 million daily active user milestone earlier this month, Facebook, which owns both services, said.

Evan Spiegel, the cofounder and chief executive of Snap, acknowledged the difficulty some new users have with the app.
"One thing that we have heard over the years is that Snapchat is difficult to understand or hard to use, and our team has been working on responding to this feedback," Spiegel said in prepared remarks released by the company.
Spiegel said that in response, the company would overhaul its app in a bid to draw in new users. "We are currently redesigning our application to make it easier to use. There is a strong likelihood that the redesign of our application will be disruptive to our business in the short term, and we don't yet know how the behavior of our community will change when they begin to use our updated application."
Snap's shares were originally priced at $17 per share, before skyrocketing to $24 on their first day of trading. But the shares haven't closed above $20 since June, and in after-hours trading Tuesday, sank to $12.41. The shares closed at $15.12 today before the company reported its earnings.