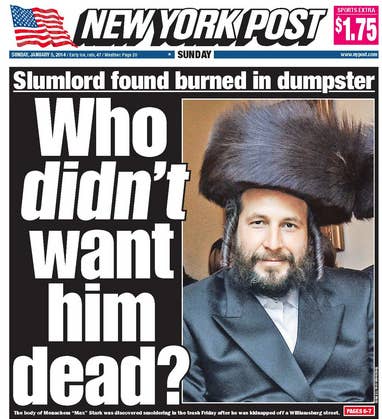 Today's New York Post cover, depicting slain Brooklyn developer Menachem "Max" Stark and asking, "Who didn't want him dead?" has stirred outrage in New York City's political circles and especially among its large, vocal Hasidic Jewish community, of which Stark was a member.
The 39-year-old Stark was kidnapped on Thursday outside his Brooklyn office and his half-burned body was found in a garbage can in a Great Neck gas station on Saturday.
The Post's story detailed Stark's business practices and described him as a "slumlord" who had left behind a long list of dissatisfied tenants, business partners, and creditors.
The cover almost immediately led to a huge backlash, with criticism from several New York City council members including Stephen Levin, David Greenfield, Mark Levine, Mark Treyger, Brad Lander, Carlos Menchaca, and Brooklyn Borough President Eric Adams, along with other municipal officials, who harshly condemned the cover as insensitive and offensive.



Greenfield told BuzzFeed that "For the Post to celebrate the kidnapping and murder of an innocent family man...is a new low in tabloid journalism" and that, while he would "expect them to apologize," he would consider a campaign to cancel Post subscriptions if there was no apology.
While Greenfield does not represent Stark's Williamsburg district, his District 44 covers Bensonhurst, Midwood, and Borough Park and has more Orthodox Jews than any other New York City Council district.
Several other New York political figures, including political consultants, condemned the Post.


Brooklyn Borough President Eric Adams called on the Post to apologize in a Sunday afternoon press conference.

There have been over 4,000 tweets with the hashtag "#stopNYPostHate" so far today.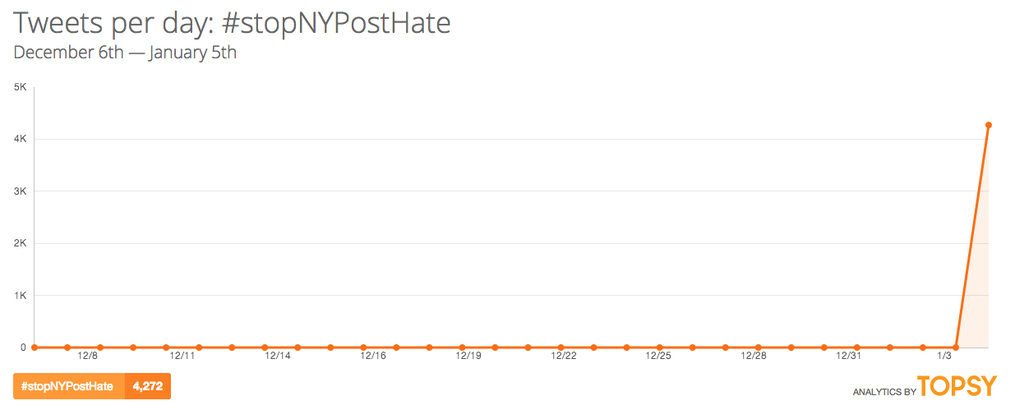 Update - Jan. 5 4:55 p.m., ET: Post spokeswoman Suzanne Halpin said in a statement: "The Post does not say Mr. Stark deserved to die but our reporting showed that he had many enemies, which may have led to the commission of this terrible crime. Our thoughts and prayers are with the family at this time of loss."