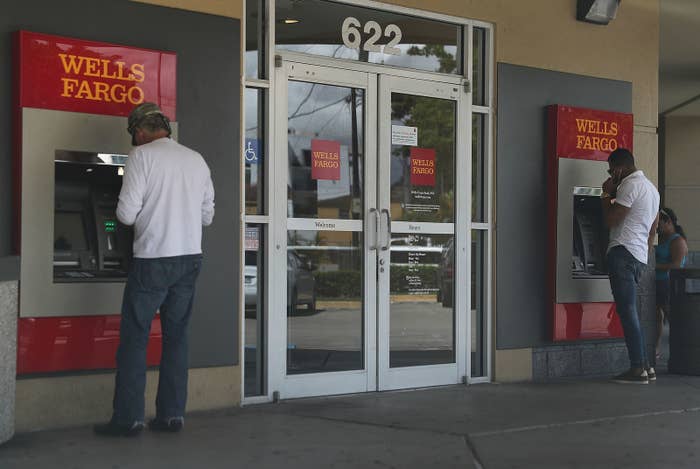 Fewer Wells Fargo customers are opening new accounts, talking to bankers in branches, and applying for credit cards in wake of the bank's fake accounts scandal, according to figures released alongside the bank's quarterly earnings on Friday.
The scandal, which let to the exit of Wells Fargo chairman and CEO John Stumpf on Wednesday, has already hit the bank's bottom line, with it agreeing to pay $185 million in penalties to federal and state regulators.
But it also appears to have caused customers to stay away. The number of new Wells Fargo checking accounts opened in September fell by 25% compared to the same period in 2015, and credit card applications dropped by 20%.
And crucially, customers seem to be avoiding interactions with its sales-focused staff, whose high-pressure tactics were central to the scandal. The number of "visits" with bank branch staff — the face-to-face moments where Wells Fargo pushed its employees to sign up customers for as many new products as possible — fell by 10% in September.
The bank said "overall customer traffic to branches and call centers remained at levels typical for September," and that usage of accounts continued growing. Use of the bank's credit and debit cards also increased.
Tim Sloan, the new Wells Fargo CEO, said on an earnings call that "loyalty scores" among customers — calculated by an in-house survey — fell in September, but only down to levels seen two years ago. Wells Fargo will "reintroduce marketing and will be gradually increasing our marketing efforts for the next few months," Sloan said.
The slip in new accounts shows that the ongoing scandal has damaged the core of Wells Fargo's retail banking strategy, which is to sell existing customers as many new products as possible — including higher revenue products like mortgages. While only about 10% of Wells Fargo's mortgages come from referrals from the retail bank, that "channel" of new customers shrunk by 24% in September.
Wells Fargo has a little over 32 million accounts, and the bank is now working on an expensive and time-consuming effort to contact all customers with un-activated credit cards and bank accounts. It is also reaching out to credit rating bureaus to correct any black marks on people's credit scores caused by credit card applications made by its staff without their approval.