Netflix Raises Prices For New Customers, Current Customers Keep Prices For Two Years
New customers will pay $8.99 for streaming, and old customers will get to pay $7.99 for two more years.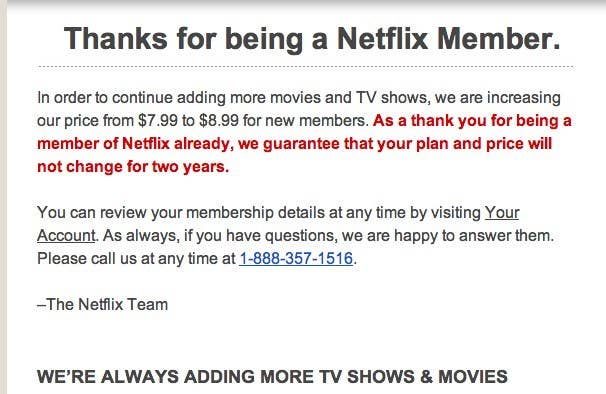 Netflix told customers in an email Friday morning that the price of its streaming video service would go up $1 a month, from $7.99 to $8.99. For current customers, however, the price will stay at the lower $7.99 monthly price for two years, while new customers will pay the higher rate.
The company first announced its intention to alter Netflix's pricing in January, when it reported its 2013 earnings.
Reed Hastings, Netflix's chief executive officer, said he was experimenting with offering a range of services with different pricing, including running four streams simultaneously for $11.99 a month. He said that current customers would receive "generous grandfathering of their existing plans and prices."
In April, Hastings said the company would implement "a one or two dollar increase, depending on the country, later this quarter for new members only," while current customers would keep their current prices "for a generous time period." When Netflix raised prices in Ireland last year, existing customers were grandfathered in for two years.
The company's stock is up $1.15 in early trading to $322.48. After being one of the strongest stocks of 2013 — its price rose 296% — Netflix shares are down 12% on the year.