Netflix Expands To 130 New Countries
The streaming site will now be available in giant markets like India, Russia, Indonesia and the Philippines.
Netflix will now be available almost everywhere in the world, with CEO Reed Hastings telling attendees at CES in Las Vegas they were "witnessing the birth of a new global Internet TV network."

Before today's expansion, Netflix was available in North and South America, Western Europe, Australia and New Zealand, and Japan. The 130 new countries Netflix is adding brings its total to 190 where the service is available — pretty much everywhere outside of China and a few countries where the U.S. has trade restrictions, like Crimea, Syria, and North Korea).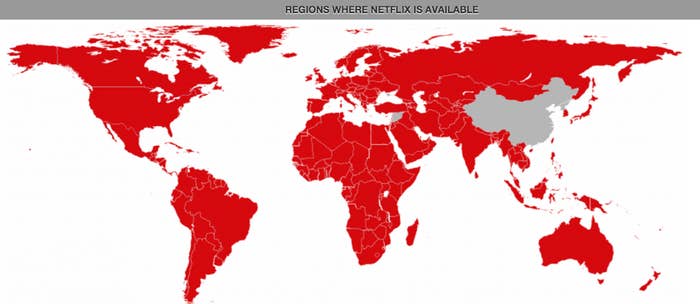 Included in the expansion are giant economies like India, South Korea, Indonesia, the Philippines and Russia. Netflix also said it was adding new languages, including Arabic, Korean, and Chinese, despite not being available in China.
In Indonesia, you can now subscribe to Netflix for 109,000 rupiah per month:
Or 500 rupees per month in India:
"With this launch, consumers around the world — from Singapore to St. Petersburg, from San Francisco to Sao Paulo — will be able to enjoy TV shows and movies simultaneously," Hastings said.

The company's stock soared on the news, going up just over 6%.
"From today onwards, we will listen and we will learn, gradually adding more languages, more content and more ways for people to engage with Netflix,' Hastings said.