Morgan Stanley's Tax Benefit Drives Profit Up 97% To $1.9 Billion
But besides a big one-off benefit, the quarter was similar to its peers, with declines in fixed income and equity trading revenues and an increase in wealth management and investment banking revenues.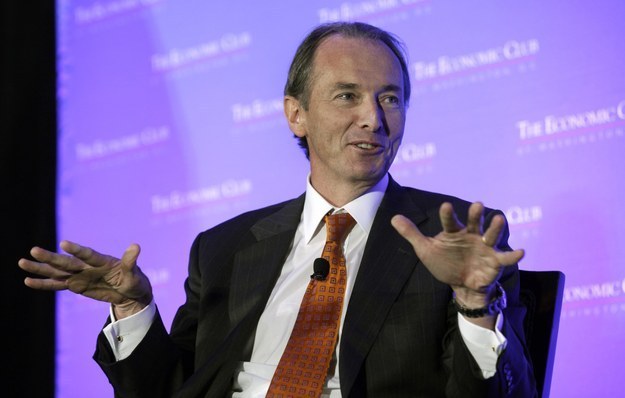 Morgan Stanley, the last big bank to report its earnings for the second quarter, ended a week of generally expectations exceeding reports the same way most of its peers did — better earnings than projected and a smaller fall in fixed income trading than expected.
The bank's earnings per share, stripping out an accounting adjustment for the value of its debt and a tax benefit, were 60 cents, north of the 56 cents analysts polled by Bloomberg anticipated. Its revenue similarly beat out projections, with an adjusted figure of $8.5 billion compared to expectations of $8.2 billion.
The bank's unadjusted figures, including a tax benefit of $609 million, pushed their earnings up another 21 cents a share to $1.94 billion, giving Morgan Stanley its highest earning per share since the third quarter of 2011.
But using comparable figures like overall revenue, the bank is roughly holding ground, with only a 1% increase in the amount of money its businesses were able to generate compared to the second quarter of last year.
The bank's sales and trading revenues of $2.6 billion were, like many of its competitors, lower than they were last year, with a 14% drop from the second quarter of last year in Morgan Stanley's case. Fixed income and commodities trading revenue dropped by some 13% to $1.06 billion. The bank said in a statement, echoing nearly every other bank with a big sales and trading business experiencing a doldrum of the likes not seen in years, that the drop in revenue was "due to lower market activity."
Its equities business showed more resilience, with revenues of $1.83 billion dropping only 5% from $1.9 billion. Both declines were smaller than Nomura analyst Steven Chubak projected in a report earlier this month — he saw declines of 15% in fixed income and 7% in equities.
Morgan Stanley's investment banking and advisory business grew revenue 33% from the second quarter of last year to $1.4 billion, reflecting both a boom in mergers, new financing for companies taking advantage of low interest rates, as well as a spate of initial public offerings.
"Our quarterly results demonstrated solid performance, despite a muted operating environment. We are seeing momentum across our businesses, with particular strength in Investment Banking, Equity Sales & Trading and Wealth Management," Morgan Stanley chairman and chief executive officer James Gorman said in a statement, reflecting the bank's emphasis on businesses besides fixed income trading.
Gorman has referred to the bank's wealth management business, with its 16,000 financial advisors, as its "ballast" that could provide it steady earnings without too much risk or taking up too much capital.
This quarter its revenues grew 5% over the year to $3.7 billion, some 43% of its total revenues. In the boom years before the financial crisis when Morgan Stanley was trying to match its rival Goldman Sachs's fixed income trading prowess, wealth management was only made up 18.3% of its total revenue.
The bank's stock was buoyed this week as rival banks reported declines in trading revenues that weren't as bad as initially forecast. And this morning is no different, in pre-market trading, the bank's stock is up some 1.54% percent to $33, its highest price since January of this year.