Millennials Have Lots Of Student Debt And Think It's A Huge Problem
More than 40% of millennials have some student debt, and 79% of them think it's a problem. And more than half of all millennial college students do too.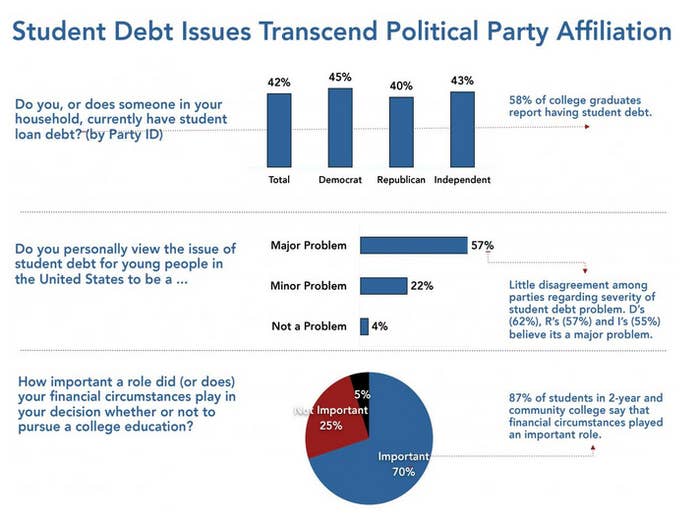 There's over $1 trillion of outstanding student debt. That's more than any non-mortgage form of personal debt, and young people know it's a problem. According to a survey of 18- to 29-year-olds conducted by Harvard's Institute of Politics, student debt is both pervasive and worrying for young people. The survey found that 42% of 18- to 29-year-olds either had some student debt or someone in their household did, while 58% of college graduates in that group had some debt.
But worries about student debt are not limited to those young people who have it. The survey also showed that 79% of respondents said that student debt was a major or minor problem, while only 4% said it was "no problem." These results were also consistent across political boundaries — 62% of Democrats and 57% of Republicans said student debt was a major problem.
These high levels reflect both the growing amount of total outstanding debt and the trouble that borrowers are having in paying it back. Data from the Federal Reserve Bank of New York shows that the delinquency rate on student debt — meaning no payments for 90 or more days — is just under 12%, higher than any other form of consumer debt and growing, while overall consumer debt delinquency is falling.
The increased burden of student debt and the ever-growing cost of college have also impacted how students think about college, according to the survey. And these concerns are weighted toward ethnic minorities and community college students. Eighty-seven percent of two-year college students said debt "played an important role in their decision whether or not to pursue a college education" compared with 70% of all college students, while 52% of black millennials said it played a "very important" role. Only 38% of white millennials said the same.