Microsoft Is Buying LinkedIn For $26 Billion
Satya Nadella would like to buy your professional network.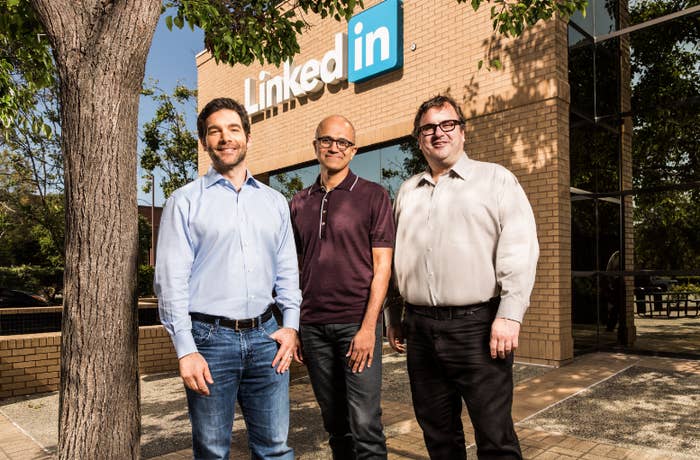 The Windows giant will swallow up another young company. Microsoft said today that it would acquire LinkedIn for about $26 billion, or $196 a share. The deal would end LinkedIn's relatively short life as a public company — the social network, which was founded by former PayPal executive and venture capitalist Reid Hoffman, went public in May 2011.
Microsoft's purchase price is 50% higher than what the stock market was valuing LinkedIn at, meaning a big payday for LinkedIn shareholders, particularly those who bought shares in recent months. Before the deal was announced, LinkedIn's stock was trading at just over $131 a share and had sunk over 40% this year.
LinkedIn shares lost almost half their value in early February after the company said its revenue in the upcoming year would be less than that analysts had expected. Before LinkedIn's epic fall, the stock had been trading at just over $192 a share. Before investors soured on newly public technology companies with meager or no profits, LinkedIn shares were riding high and hit $269 early last year.
Under the leadership of Satya Nadella, Microsoft has invested in or acquired a number of younger companies outside of Microsoft's core business of making software for personal computers and selling software services to large companies. It acquired the gaming company that makes Minecraft in September 2014 and bought the beloved calendar app Sunrise in 2015.
The LinkedIn deal even dwarfs Microsoft's acquisitions of Nokia's device business and Skype, which it acquired for $7.2 billion and $8.5 billion respectively.
Despite LinkedIn's size as a social network — it has over 400 million members and gets over half of its revenue from companies and people paying to use it — it will be a small part of Microsoft's business. The software giant had over $95 billion in revenue in 2015, while LinkedIn only produced $3 billion in revenues and lost money for the year. Microsoft says it expects the deal to add to its profits by 2019.

While the synergies between the leading normcore social network and the leading normcore software giant may not be immediately obvious, Microsoft said in an investor presentation that "by connecting the world's leading professional cloud and professional network, we can create more connected, intelligent, and productive experiences."
What does this mean? One example suggested by Microsoft in a PowerPoint (duh) presentation included linking people's Outlook, LinkedIn, Skype, and Microsoft Office information so that it can show up in a phone call, email, or LinkedIn search. For corporations, the linkages might include combining LinkedIn data with software Microsoft makes for salespeople as well as including LinkedIn's professional education services, which largely come from a company LinkedIn acquired last year called Lynda, with Office.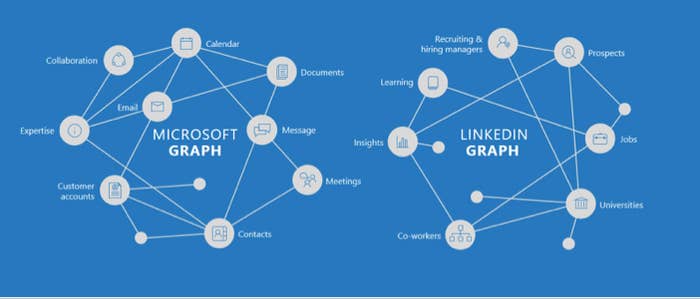 Of course, integrating a young social networking service into a sprawling business software company is easier to do on PowerPoint than in real life. LinkedIn could also just exist and persist under the Microsoft umbrella, changing neither itself nor its parent company very much. This was the case with Microsoft's splashy acquisitions of Skype and the group messaging service GroupMe.

LinkedIn will "retain its distinct brand, culture and independence," Microsoft said in a statement. Its current chief executive, Jeff Weiner, will stay on board to run the social network.
"Today is a re-founding moment for LinkedIn. I see incredible opportunity for our members and customers and look forward to supporting this new and combined business," LinkedIn founder Reid Hoffman said in a statement.