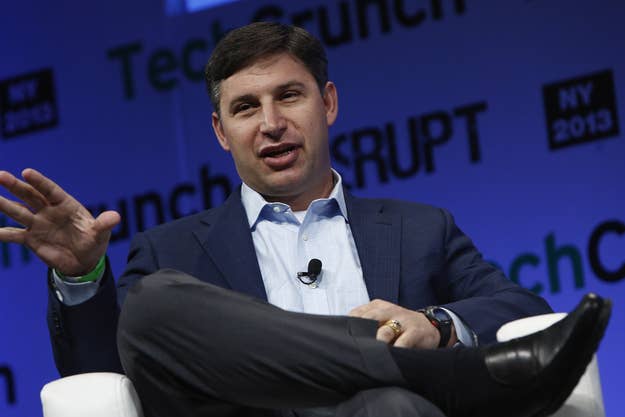 Speaking at TechCrunch's Disrupt conference in May, Goldman Sachs banker Anthony Noto said, "I think 2014 will be a big year for consumer internet IPOs."
Well, as it turns out, it will also be a big year for Noto, who landed the lead left role as the banker charged with taking Twitter public.
Twitter will be, by far, the most prominent deal for Noto, a West Point graduate with the highest grade among the academy's mechanical engineers, and a major coup for Goldman Sachs. Indeed, Twitter could have went with Morgan Stanley and its more high-profile chief technology banker Michael Grimes, who masterminded the Facebook IPO, as its chief underwriter. But, underscoring just how big of a black eye the social network's botched initial first days of trading were for both Morgan Stanley and Grimes, Twitter decided to go with Noto even though he is based in New York and not in Silicon Valley (though his Twitter account is, of course, littered with references to flights in and out of San Francisco, along with tweets about Army football and Penn's women lacrosse, where his daughter Marisa is on the team).
"For good reason, he is a trusted advisor to many of the technology industry's thought leaders and executive teams," said Zillow CEO Spencer Rascoff, who has known Noto since the late 1990s. "Anthony is the rare investment banker who has sat in all three chairs [analyst, CFO, banker], which gives him unique credibility and a well-rounded perspective that is very helpful to his clients and differentiates him from most other investment bankers."
Representatives for Goldman Sachs declined to comment.
Early in his career, however, Noto wasn't exactly viewed so pristinely.
Noto first gained prominence as one of the more optimistic technology analysts in the late '90s and early '00s. His research featured positive reports for tech bubble ephemera like Webvan and Planet Rx, and he had to live down his enthusiasm for eToys, a Goldman client that went bankrupt two years after the bank took it public.
And he did: Unlike Henry Blodget, Noto was never accused of colluding with bankers to produce positive research to help Goldman Sachs win business from the hottest tech companies. Nor did he pick up a nickname like Mary Meeker's "Queen of the Net."
Instead, he managed to ascend through Goldman's ranks as an internet analyst, even making partner in 2004, just five years after he joined the firm. During that time, Noto sharpened his stock-picking skills to the point where he was a regular atop Institutional Investor's list of the best analysts.
Contrary to his earlier glowing tech company research, Noto even became one of the few major brokerage analysts to gain national attention for his pessimistic take on the stock of a Goldman banking client. Baidu, the Chinese search company, went public in August 2005 with Goldman as its lead banker and jumped more than 350% on its first day. Six weeks later, when the stock was at $113.59 (it opened trading on its IPO day at $27), Noto issued a report telling clients to sell the stock, saying it was worth somewhere between $27 and $45. The stock dropped almost 30% that day.
Not long after, Noto gained a reputation as something of a web wiseman, widely respected in the technology community. Zillow's Rascoff said he pitched Noto on the original idea for the company "just to get his early input on our strategy and product offering" before its 2006 launch.
Despite his gaining stature, Noto in 2008 decided to leave Goldman — but not for a startup, venture capital firm, or large technology company like many tech analysts before him. Instead, he went to the NFL, where he was the League's chief financial officer. (Noto himself was an academic all-American linebacker at West Point.)
Two years later, in advance of a possible NFL lockout, Noto returned to Goldman, a rare move at a firm where partners tend to advance and then leave for greener pastures and more senior positions elsewhere. Except when he came back, he wasn't an analyst, but a dealmaker. As the co-head of global technology, media, and telecom banking, Noto quickly invigorated a Goldman team that tended to lose out on big deals to valley stalwart Morgan Stanley.
That is, of course, until Twitter came along.