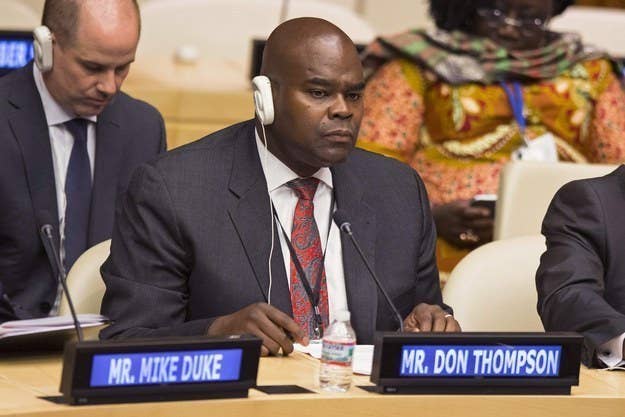 The crisis at the world's largest fast food chain has claimed its highest profile victim: McDonald's Chief Executive Officer Don Thompson is leaving the company on March 1, the company said today. The announcement came after a quarter where the fast food giant lost ground all over the world, and a year of declining sales and grim results.
Thompson is stepping down after less than three years on the job — a short tenure marked by the company's first sustained period of declining sales and existential questions about its future and relevance amid changing eating habits. The company said in a statement that Thompson would be replaced by Steve Easterbrook, currently its chief brand officer, as both president and CEO. Easterbook will also take a spot on its board of directors.
Thompson was appointed CEO in 2012, taking over that July for Jim Skinner, who retired after eight years in the top job and 41 years at the company.
"It's tough to say goodbye to the McFamily," Thompson said in the statement, "but there is a time and season for everything. I am truly confident as I pass the reins over to Steve, that he will continue to move our business and brand forward."
Investors cheered the leadership change, with McDonald's stock rising 3% in after-hours trading. The stock has fallen 6% in the last 12 months.
As chief brand officer, Easterbrook was in charge of the company's marketing and digital efforts as well as its new menu items. Thompson's departure comes following dismal recent performance, with revenue falling 7% in its most recent quarter, and profits dropping 19%.
The drop was caused by a combination of the U.S. dollar strengthening against foreign currencies, fewer customers going to stores, and an especially sharp downturn in the company's Asian business. Scandal hit the company after pieces of plastic — and in one case, a tooth — were found in meals served at McDonald's in Japan.
In the United States, profit fell almost $300 million from a year ago. The company has promised a turnaround, including more diverse menus for different regions and more responsiveness to consumer taste. But it is struggling: In 2014, same-store customer traffic in the U.S. fell more than 4% from the previous year.
McDonald's also appointed its current chief financial officer Pete Bensen to the new role of chief administrative officer, and promoted its current corporate controller Kevin Ozan to the CFO role.
"McDonald's is an outstanding company with talented employees and these management changes are aimed at speeding the company's movement to its next phase of innovation and growth," McDonald's chairman Andrew McKenna said.