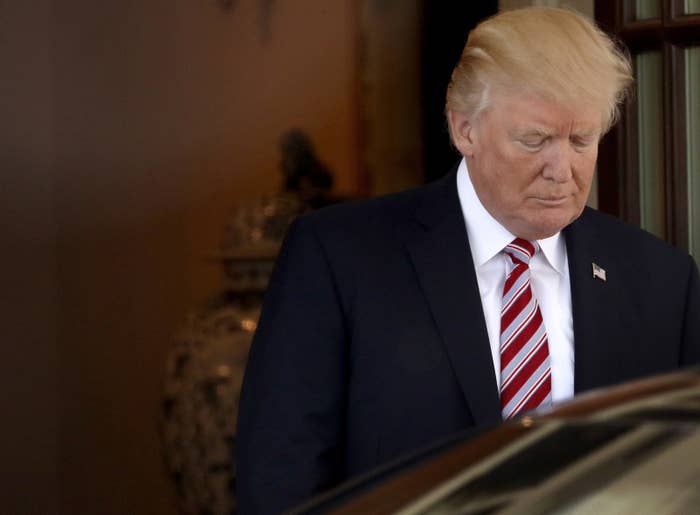 Stock markets had their biggest fall since before the presidential election on Wednesday, as investors considered that President Trump's policy agenda — and perhaps even his future in the White House — are being called into question.
"The steady stream of White House missteps and unforced errors serves as a stark reminder that the GOP's legislative agenda is slowly slipping from its hands," analysts at Compass Point, a brokerage and research firm, wrote in a note. "Congressional Republicans appear befuddled as they are forced to defend the White House's actions, as well as the subsequent shifting explanations, rather than advancing its legislative strategy."
The S&P 500 was down 1.8%, only the second dip of more than 1% since October, according to data compiled by the Wall Street Journal. From the day after the election onward, investors have pushed stock prices higher, betting that big business will benefit from the Trump administration — and its plans for major corporate tax cuts in particular. Whenever that agenda looks like it's in trouble, markets quickly turn.
The companies most sensitive to Trump's agenda, like banks, were the worst hit on Wednesday. Bank of America and Goldman Sachs were down 5.8% and 5.3% respectively. Both companies are set to benefit from softer regulation in the Trump era that would help them out pay more money to their shareholders.
Even Apple was down over 3%, wiping away over $20 billion in market value. The smartphone giant, with more than $220 billion in cash stowed away abroad, would be the biggest beneficiary of changes that let overseas cash be brought home cheaply, which is a plank of the administration's still-embryonic tax plan.
Many analysts expect that cash, brought home by Apple and others, would boost markets in a number of ways. Companies could return some of it to shareholders, or spend it buying back their stock, or use it to acquire other companies.
But the likelihood that the one-page tax plan recently released by the Trump administration will get turned into law shrinks as the President and his staff are consumed by scandal and chaos. A timeline that once suggested tax cuts being debated this summer has been pushed back, in the guesses of onlookers, to the fall, or maybe next year, or maybe 2019.
Analysts at JPMorgan said the string of scandals "remind us more of the 1998 episode with President Clinton rather than the episode with Richard Nixon and Watergate. During that year, the Clinton administration was largely sidelined while a lengthy and very public investigation."

The overall air of political uncertainty has weighed on assets besides stocks. The Dow Jones FXMC Dollar Index, which tacks the dollar against several major currencies, was down .4% today and the dollar fell 1.4% against the Japanese Yen.

"Renewed uncertainty about US politics is weakening risk sentiment. In the FX market, [the yen] has outperformed today, showing a typical reaction to the higher uncertainty," analysts at Nomura said in a note Wednesday.
"Any sort of delay or new distractions in DC (which may result because of the latest news) will likely further push back fiscal stimulus prospects and that means less support for the economy, and all else being equal potentially for equity market," the analysts wrote.
The uncertainty infected the bond market as well.

"The political situation in Washington is rapidly intensifying such that expectations of Fed rate hikes are shifting. Indeed, the odds of a June rate hike decreased to 62% this morning versus 72% earlier this week," JPMorgan analysts wrote today.
Analysts typically expect the Federal Reserve to raise interest rates when the economy is stable and growing. The yield on ten year US Treasury bonds, which tend to go down when markets freak out, were down 10 points to 2.22%, one of the biggest falls since last summer according to Bloomberg data.